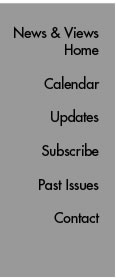 Etcetera

Scripps Research to Participate in San Diego Science Festival
The Scripps Research Institute will participate in three days of the San Diego Science Festival, which will run from Wednesday, March 11 to Saturday, April 4.
On opening day, Wednesday, March 11, the laboratory of Professor Art Olson will host a booth as part of the High Tech Fair in the Del Mar Fairgrounds displaying 3-dimensional molecular models constructed with cutting-edge fabricators and an "augmented reality" program that enables further manipulation of these models in an artificial computer environment. In addition, high school participants in the Scripps Research summer internship program and the new SMART (Students Modeling a Research Topic) team program will present posters from their research.


On Wednesday, April 1, as part of the festival's Science on the Mesa Day, the institute will host students from Mar Vista High School on the Scripps Research La Jolla campus. The students will listen to talks on careers in the biosciences and participate in laboratory tours.


On Saturday, April 4, the festival's grand finale Expo Day, Scripps Research will staff a booth at Balboa Park highlighting molecular models as well as posters from summer interns and SMART team participants. The event, which features more 300 free hands-on activities, demonstrations, and experiments, runs from 10:30 AM to 6 PM and is based in the central corridor of Balboa Park.
For more information on the San Diego Science Festival, visit http://www.sdsciencefestival.com/.
La Jolla Historical Society Event: "From Metabolic Clinic to The Scripps Research Institute"
As part of its Emergence of Pioneering Scientific Institutions in La Jolla series, the La Jolla Historical Society will host "From Metabolic Clinic to The Scripps Research Institute," featuring lectures by Scripps Research Professor Michael Oldstone and Professor Emeritus Charles Cochrane, on Tuesday, March 17, at 7 PM. Admission to the event, which will be held in James Hall, 7776 Eads Ave, La Jolla, is free to La Jolla Historical Society members, $15 for non-members. To reserve seats, email info@lajollahistory.org with the number of tickets you'd like and the name of the lecture, or call 858-459-5335 x101.
Send comments to: mikaono[at]scripps.edu