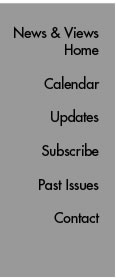 In Brief

Library Tip: New Journals for 2009
The Kresge Library has added the following online journals for 2009:
If you have any questions or comments about these titles, or the library's journal collection, please contact the Kresge Library at x4-8705 or helplib@scripps.edu.

Lunch & Learn: "Getting Fiscally Fit"
The Counseling Office and The Foundation for Personal Financial Education present "Getting Fiscally Fit: A Financial Planning Workshop for Employees," on Wednesday, February 11, from noon to 1 PM as part of the ongoing Lunch & Learn seminar series. In this workshop, participants will learn how to: overcome the roadblocks to financial success, create and maintain a financial blueprint, cultivate daily habits to positively influence your financial fitness, develop action steps to financial freedom, identify cash flow traps, put dollars back into your monthly cash flow through proper tax-planning. The event will be held in the Keck Amphitheater, Beckman Building, La Jolla campus.

Introducing Electronic W-2 Forms
The Scripps Research Finance Department is pleased to announce the availability of electronic W-2 forms for employees through Employee Online, in addition to their distribution by mail. The online W-2 history contains tax years 2007 and 2008.
The goals of the new service are to improve processes and provide better service to the Scripps Research community, while protecting the security of each employee's information. Please take a moment to login to the Employee Online system and check out your W-2 form (look to the menu on the left).
Please send questions or comments to pyadmin@scripps.edu.

Support the American Cancer Society's Daffodil Days
The ScrippsAssists employee volunteer club invites you to support the American Cancer Society's Daffodil Days 2009.
Daffodil Days—which presents a unique opportunity to enjoy beautiful, fresh flowers while making an impact on the lives of local cancer patients and their families—is one of the Cancer Society's largest fundraisers of the year. Money goes toward cancer research and education in California, early detection efforts, advocacy, and patient services.
Sales have started and will run until Thursday, February 19 with the expected delivery date of the flowers of Tuesday, March 17.
Items for sale include:
Bouquet of 10 daffodils (no vase), $10
"Sunshine," 10 daffodils with a 7-inch, ocean blue acrylic vase, $20
"Vision," 20 daffodils with a 6.75-inch, purple, glass vase, $35
Bear and a Bunch, 10 daffodils and a 10-inch Boyd's teddy bear named "Carrie N. Hope," $25
Gift of Hope donation, any amount. American Cancer Society representatives use this donation to anonymously deliver bouquets of daffodils to cancer patients in hospitals, medical centers, and doctor's offices. (Please note: bouquets are not delivered to specific patients, nor are donor's names attached to the gifts.) Gift of Hope donations also fund cancer research, education, local patient services and advocacy efforts.
Please make checks payable to the "American Cancer Society."
The following volunteers are available to take your orders:
Jenny Miller, 3301 Torrey Pines Court, reception, x4-8379
Jan Tuomainen, Human Resources, x4-8825
Kathy Sterling, Molecular Biology, 120, x 4-9837
Rebecca Nedellec, Immunology, 316, x4-9933
Joan Lord, Stein, 108, x4-2155
Kathy Spencer, ICND, 208, x4-8437
Lisa Cairncross, Carr B/Cim Bio, x256C, x4-7052
Pam Cryer, SP 3030, 1150, x4-2807
Alicia Uncangco, MEM, 116, x4-7907
For details and pictures of the products, see http://www.scripps.edu/~lmadden/daffodil/Daffodil_Days_2009.pdf. For additional information, contact Leslie Madden, x4-2881 or lmadden@scripps.edu.

Where to Find Peanut Recall Information
Environmental Health & Safety shares a new resource for those interested in learning more about the recent Salmonella Typhimurium outbreak from peanuts and peanut butter products—http://www.cdc.gov/socialmedia. This social media web page is hosted by the U.S. Department of Health and Human Services, Food and Drug Administration (FDA), and Centers for Disease Control and Prevention (CDC), which aim to make it easy to obtain automatically updated information on the outbreak and the product recall. The new site provides resources including: a Salmonella Typhimurium outbreak map widget, an FDA products recall database widget, updated mobile site content, CDC podcasts, an FDA video "Dos and Don'ts During the Peanut Salmonella Outbreak," and CDC health-e-cards. Many of these resources are available in both English and Spanish.
Information about the Salmonella Typhimurium outbreak and the product recall is also available at:
You can call 1-800-CDC-INFO (1-800-232-4636), 24 hours a day, 7 days a week, for up-to-date information about the recalls and hundreds of other health and safety topics.

News&Views Salutes President's Day
News&Views will not be published on Monday, February 16 due to President's Day, a Scripps Research holiday. Weekly publication will resume with the Monday, February 23 issue.
Send comments to: mikaono[at]scripps.edu