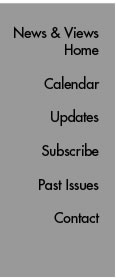 Etcetera

Gerald Edelman, K. Barry Sharpless, Peter Vogt Named "Top Scientists of All Time"
Three scientists from The Scripps Research Institute have been included in Nationmaster.com's list of "top scientists of all time," based on a poll of 80 universities worldwide. The list, which aims to span from the beginning of time to 2000 AD, includes: Scripps Research Department of Neurobiology Chair Gerald Edelman, Professor K. Barry Sharpless, and Professor Peter Vogt. NationMaster, a massive central data source, aims to be the web's one-stop resource for country statistics. To see the list of scientists, go to http://www.nationmaster.com/encyclopedia/TOP-SCIENTISTS-OF-ALL-TIME.

Michael Boddy Wins Leukemia & Lymphoma Society Award
Assistant Professor Michael N. Boddy has been selected to receive a five-year Career Development Program Scholar Award from the Leukemia & Lymphoma Society. This prestigious award is given to highly qualified investigators who have shown a capacity for independent, sustained original investigation in the field of leukemia, lymphoma, and myeloma. In his research program, Boddy studies signaling by the post-translational modifiers ubiquitin and SUMO, with an emphasis on their interface with DNA repair and genome stability. The Boddy laboratory recently defined a novel family of proteins called STUbLs that provide unanticipated crosstalk between these key post-translational modifiers, by directing the ubiquitination and degradation of SUMO-modified proteins. Notably, the human STUbL is central to the therapeutic action of arsenic trioxide in acute promyelocytic leukemia treatment. The Scholar Award from the Society will greatly facilitate progress towards a complete molecular understanding of STUbL function(s), which is a major goal of an ongoing NIH funded collaboration between the Boddy and Tainer laboratories.
Send comments to: mikaono[at]scripps.edu