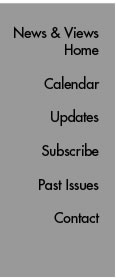 Next Generation Sequencing Comes to Campus
By Mika Ono
A new core facility is opening its doors to support Scripps Research Institute scientists. The Next Generation/Deep Sequencing Core, located on the California campus, offers Scripps Research scientists easy access to technology providing faster and cheaper DNA or RNA sequencing for large runs.
"The new facility offers a whole new level of analysis," says Steve Head, who is directing the new service with Phil Ordoukhanian. "Because the sequencing is 1000-fold cheaper per base pair than previous technology, sequencing projects that used to be cost-prohibitive are now possible."
Ordoukhanian adds, "To give you an idea of the scale we're talking about, we could sequence the whole human genome in a matter of weeks, rather than months or years. And I expect the cost per base pair to continue to go down as methods advance."
The new Scripps Research sequencing machine—an Illumina Genome Analyzer II—was delivered to the 3050 Science Park Road in La Jolla in September. The team spent the remainder of the fall managing set up and preliminary runs. The service is now open for business.
The deep sequencing technology complements rather than replaces other services offered on campus through Head's DNA Array Core and Ordoukhanian's Center for Protein and Nucleic Acid Research, which offer technology more cost-effective for smaller projects.
For large projects, though, the Illumina Genome Analyzer II is hard to beat. The technology uses a massively parallel sequencing-by-synthesis approach to generate billions of high-quality bases of sequence per run. Applications include genomics, epigenomics, gene expression analysis, and protein-nucleic acid interactions.
"We encourage institute investigators to come talk to us if they are interested in the new service," says Head, who notes that he and Ordoukhanian are already in discussions with several Scripps Research groups. "We'd love to hear from you."
Head can be reached at x4-2263 or shead@scripps.edu; Ordoukhanian can be reached at x4-9941 or philo@scripps.edu.
Send comments to: mikaono[at]scripps.edu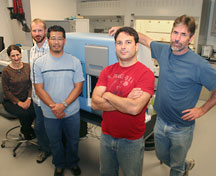 The Next Generation/Deep Sequencing Core is now open for business. Here, the core's staff, Lana Schaffer, Craig Barnhart, and John Shimashita, Phil Ordoukhanian, and Steve Head (left to right), pose in front of the new Illumina Genome Analyzer II.