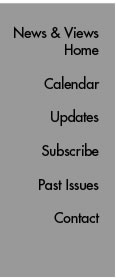 Etcetera
CIRM Funds Ding, Barbas, and Loring Labs
Three Scripps Research Institute investigators received awards in the latest round of funding from the California Institute for Regenerative Medicine (CIRM), announced on December 10. Associate Professor Sheng Ding was awarded $1,719,468 for a New Cell Line Grant project titled "Derivation of New ICM-stage hESCs"; Professor Carlos Barbas III was awarded $1,146,312 for a Tools and Technologies project titled, "Development of a novel technology for precise, efficient, and safe genetic modification of stem cells"; and Professor Jeanne Loring was awarded $1,141,124 for a Tools and Technologies project titled, "The Stem Cell Matrix: a map of the molecular pathways that define pluripotent cells." The funding will be paid out over two years. For more information, see http://www.cirm.ca.gov/.

Michael Conkright Awarded Landenberger Foundation Grant
Michael Conkright, a Scripps Florida scientist and assistant professor in the Department of Cancer Biology, has received a $150,000 grant from the Margaret Q. Landenberger Research Foundation. The two-year grant will help expand Conkright's research into oncogenes and the molecular networks they create that can lead to cancer. Conkright's award follows on the heels of Landenberger Foundation awards in 2007 to Nagi Ayad, also an assistant professor in Scripps Florida's Department of Cancer Biology, and Paul Kenney, an associate professor in the Department of Molecular Therapeutics at Scripps Florida, for $125,000 and $65,000, respectively.

The Scientist Selects Chun Lab Research as "Hot Paper"
A paper from the lab of Jerold Chun, professor in the Scripps Research Department of Molecular Biology and member of the Helen L. Dorris Child and Adolescent Neuropsychiatric Disorder Institute, has been profiled by The Scientist as a highly cited "hot paper" in the December issue of the magazine. To see the article in The Scientist, "LPA Leaps," go to http://www.the-scientist.com/2008/12/1/59/1/; for an abstract of the Chun lab paper, see The Journal of Biological Chemistry's August 18, 2006 issue at http://www.jbc.org/cgi/content/abstract/281/33/23589.

Genome Technology Magazine Names Kevin Morris "Tomorrow's PI"
Genome Technology Magazine has named Scripps Research Assistant Professor Kevin Morris one of 30 "Tomorrow's PIs" in its special year-end edition. The investigators chosen to be Tomorrow's PIs were selected for their innovative work and research in a discipline that's part of the systems biology field. For more information on Morris's work, see News&Views article "Using Non-Coding RNAs to Silence Genes." Subscribers can see the Genome Technology Magazine issue at http://www.genome-technology.com/.
Send comments to: mikaono[at]scripps.edu


Memorial Honors Ernest Beutler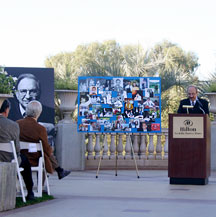 A memorial service on December 10 paid tribute to Ernest Beutler, chair of the Scripps Research Department of Molecular and Experimental Medicine for more than 30 years. Here, Bruce Beutler, chair of the Scripps Research Department of Genetics, speaks movingly about his father's many accomplishments.

High School Students Tour Labs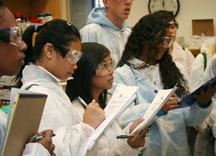 About 300 students from San Diego City schools visited the Scripps California campus December 10 to participate in MySci, a half-day science festival that included presentations and lab tours. Here, a group visits the laboratory of Associate Professor Jin-Quan Yu.