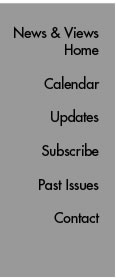 In Brief

Library Tip: Library Blog & RSS Feeds
Keep up to date with new book announcements, journal access issues, product changes, and other Kresge Library news and tips by subscribing to the Kresge Library blog's RSS feed. It's easy to do and new postings will be delivered directly to your news reader/aggregator of choice (Bloglines, Google Reader, MyYahoo, etc.). Simply go the Kresge Library blog and click on "Subscribe in a reader" in the right-hand column next to the orange RSS icon.
Many scientific journals offer RSS feeds to keep you current on their content as well. Nature, Science, Tetrahedron, C&E News, and the Journal of Immunology, to name just a few, all offer RSS feeds that will automatically send you a table of contents or daily news. For those new to RSS feeds, news readers, and their benefits, see a simple explanation at What is RSS?

Career Seminar Series: "Put Your Science to Work"
Peter Fiske, CEO of PAX Mixer Inc., former member of the technical staff of Lawrence Livermore National Laboratory, and author of Put Your Science to Work: A Take-Charge Career Guide for Scientists, will present a workshop "Put Your Science to Work," on Wednesday, December 10, from 9:30 to 11:30 AM. This workshop will present a thorough and practical overview of the process of career planning and job hunting in today's job market, from the perspective of a young scientist. Learn about specific steps that you can take to broaden your horizons, strengthen your skills, and present your best face to potential employers. The workshop also covers all the specifics of job hunting, including informational interviewing, building your network, developing a compelling CV and resume, cover letters, interviewing, and more. The seminar will be held in the Keck Amphitheater, Beckman Center. Refreshments will be provided. No RSVP is necessary. For more information, contact Ryan Wheeler, rwheeler@scripps.edu or x4-9740.

Don't Miss the ScrippsAssists Craft Fair and Raffle
The ScrippsAssists Craft Fair, a once-a-year opportunity to buy holiday gifts and support charitable activities at the same time, is coming up on Thursday, December 11, from 11 AM to 1:30 PM, on the Immunology Building breezeway. About 35 Scripps Research employee/crafters will be selling items including: orchid plants, jewelry, decoupage gift items, Jalapeno pepper jam, photo albums, purses, backpacks, quilted and sewn items, catnip toys, candles, soaps, handmade chocolates, and more.
In addition, a raffle will be held to raise money for employee volunteer group ScrippsAssists. For $1 you can buy a raffle ticket to win: passes to the Birch Aquarium, passes to the San Diego Zoo, a gift basket donated by the San Diego County Credit Union, a gift certificate to Andrew's Café, Hornblower Cruise tickets, and—the Grand Prize—two round-trip airline tickets anywhere Southwest Airlines flies donated by Culinary Concepts (tickets will be available for pick up in January). There is no limit to the number of tickets you may buy and you need not be present to win. Raffle tickets are only sold at the Craft Fair.
Send comments to: mikaono[at]scripps.edu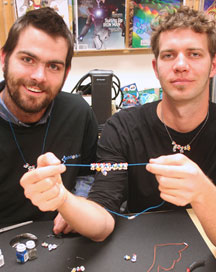 Among those participating in the Fall Craft Fair on Thursday is a team from the Olson lab, who will be selling molecular models for jewelry. Jon Huntoon, (left) and Graham Johnson show a necklace made up of 7 amino acid models: Serine, Cystene, aRginine, Isoleucine, Proline, Proline, Serine.