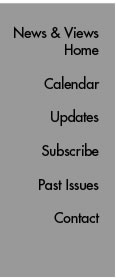 Generous Gifts Make Possible Merit Awards for Graduate Students
The Scripps Research Institute Office of Graduate Studies has announced the names of students at the Kellogg School of Science and Technology who have been selected to receive merit-based fellowships for the 2008-2009 academic year.
"Congratulations to the award winners," said Jaime Williamson, dean of the Kellogg School, "and thank you to the generous donors who made these fellowships possible."
This year's awards include:
The Bagel (pronounced "ba - jél") Graduate Student Fellowship, which will be held by Mark Schallenberger. The Bagel Fellowship was established by an anonymous gift in 2003 to endow funding for a student in his or her first critical year of study.


Norton B. Gilula Graduate Student Fellowships, which go to Christine Fang Gelin and James Lim. The Gilula Fellowship, primarily supported by contributions from Scripps Research faculty and administration, honors the late Norton Gilula, cell biologist and first dean of the Scripps Research graduate program.


Fletcher Jones Fellowships, which will be held by Devon Cayer and Hope Shaffer. These fellowships are supported by 1993 and 2003 grants from The Fletcher Jones Foundation to endow graduate scholarships at the Kellogg School. The Los Angeles-based Fletcher Jones Foundation, established in 1969 by mathematician, businessman, and computer science visionary Fletcher Jones, specializes in grants to private colleges and universities, particularly those in California.


Pfeiffer Foundation Scholarships, which go to Amanda Wolfe, Bryan Pavlovic, and Katherine Duncan. The Gustavus and Louise Pfeiffer Research Foundation makes grants to tax-exempt institutions for projects or programs carried out in the United States for advancement of medicine and pharmacy, including scientific research, post-graduate scholarship and fellowship assistance, and studies in nutrition, blindness, deafness, and other physical disabilities.


A San Diego Foundation scholarship from the Norman & Margaret Lassey Fund, which will be held by Kwesi Frimpong-Boateng. The Lasseys, who owned and operated a beverage bottling and distributing company in Imperial County for 39 years, have designated medical research and other worthy community causes for donations. The San Diego Foundation is a community resource for receiving, managing, and distributing charitable funds to support organizations within the San Diego area.


The Delia Baxter Fellowship, which will be held by Sophie Sun, and the Donald Baxter Fellowship, which will be held by Aaron Sather. The Donald and Delia Baxter Foundation (not to be confused with the drug company Baxter International) was established to advance charitable, scientific, and educational purposes, primarily at medical and scientific schools of higher learning in California; the foundation has been a major supporter of basic research at Scripps Research since the early 1990s.


The Andrea Elizabeth Vogt Memorial Award, which will be held by Joseph Wang.This award, made possible by the generosity of Scripps Research Professor Peter K. Vogt, is granted to a student who is in excellent academic standing and who can demonstrate financial hardship.


The Eli Lilly and Company Foundation fellowships, which will be held by David Harris and Ang Li. These fellowships were established by the Eli Lilly and Company Foundation and the Scripps Research Department of Chemistry for outstanding senior graduate students working in the areas of chemical synthesis and chemical biology.
The selection criterion for these fellowships is primarily excellence in research, as demonstrated by publications and contributions to the graduate program.
Send comments to: mikaono[at]scripps.edu

---
"Congratulations to the award winners and thank you to the generous donors who made these fellowships possible."
—Jaime Williamson
---