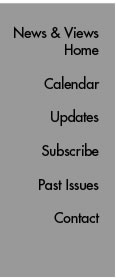 In Brief
SOF Election Results
It has been a week for voting, not only for the presidential race, congressional seats, and ballot initiatives, but also for leadership positions at The Scripps Research Institute's Society of Fellows (SOF). Results of Thursday's election are as follows:
President, Scott Westenberger
Vice-president, Julie Pilotte
Treasurer, Steffen Grimm
Career chair, Namandje Bumpus
Distinguished Lecturer Series chair, Stephan Meister
Vendor show chair, Peter Haberz
The SOF, whose history reaches back more than 40 years, encourages professional and social exchange within Scripps Research. All Scripps Research graduate students, staff, and current and former postdoctoral fellows are welcome to participate in SOF activities, which range from scientific lectures to "happy hours," from career development forums to cultural excursions. For more information on the SOF, see the group's web site at http://www.scripps.edu/services/sof/.

Library Tip: Disease Models & Mechanisms
Disease Models & Mechanisms (DMM), a new journal publishing "reports of research using model organisms to understand the mechanisms underlying human disease and to develop novel diagnostics and therapeutics," is free online until the end of 2008. DMM includes expert reviews, community news, key findings in the field, and articles such as "The baffling multitude of disease models for the study of human disease—how can the scientist navigate the huge amount of data and receive guidance?" Comments or questions can be directed to the Kresge Library, x4-8705 or helplib@scripps.edu.

San Diego Lab Management Course Open for Registration
Scripps Research, Burnham Institute, and the University of California, San Diego, (UCSD) are proud to host the third San Diego Lab Management Course on Thursday, January 22 and Friday, January 23, 2009, at the UCSD Price Center. This two-day course is designed to equip postdocs, senior grad students, and junior faculty with the knowledge and professional competencies to lead innovative and productive research programs. This year, the course is co-sponsored by the National Postdoctoral Association.
Enrollment is open to postdocs, senior grad students, and junior faculty from the Torrey Pines Mesa research institutes and other UC campuses, and is limited to 200 participants. The event has sold out in previous years, so register early. The early bird registration fee is $85 for postdocs/graduate students and $125 for faculty/others now through November 30, 2008. The regular registration fee is $100 for postdocs/graduate students and $150 for faculty/others starting December 1, 2008. (Note this course is eligible for the Society of Fellows Postdoc Course Reimbursement Program; if you plan to take advantage of this program, remember to follow the instructions on the course reimbursement website and to submit an application form before the course date.)
For additional details, see the course website and online registration page. For News&Views stories on previous years' courses, see "New Symposium Offers Insights into Scientific Leadership and Lab Management" and "Learning to Lead". For additional information, contact Jennifer Oh at (858) 534-6632 or jmoh@ucsd.edu.

Benefits Seminar: "Fidelity Quarterly Market Update"
Benefits Administration is pleased to present Thomas Worsley, regional consultant from the Fidelity Investments Personal Investment Center, who will provide a "Fidelity Quarterly Market Update" on Monday, November 10, from noon to 1 PM in the Keck Amphitheater, Beckman Building.
In this update you will learn:
What drives changes in bond market interest rates and valuations
The factors affecting the performance of domestic and international equity markets
The driving forces behind U.S. economic growth
Strategies for determining your target asset mix
How a NetBenefits questionnaire can help with asset allocation.
For more information, contact Benefits, x4-8487 or benefits@scripps.edu.

Safety Gram Live!: "Disaster Preparedness in San Diego County"
John Wiecjoreck, senior emergency services coordinator with the San Diego County Office of Emergency Services, will speak on "Disaster Preparedness in San Diego County" on Wednesday, November 12 at noon, as part of Environmental Health & Safety's "Safety Gram Live!" series. The seminar will provide useful information and resources on disaster planning and preparation at home and at work. For more information on the seminar, which will be held in the Keck Auditorium, Beckman Building, contact Julio Giannotti, julio@scripps.edu.
Send comments to: mikaono[at]scripps.edu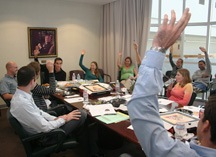 The Scripps Research Society of Fellows (SOF) held elections
November 6.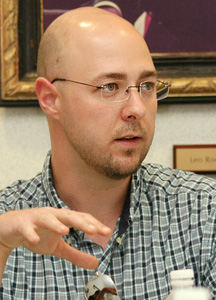 Scott Westenberger, research associate in the Winzeler lab, emerged as the new SOF president. Photos by Kevin Fung.