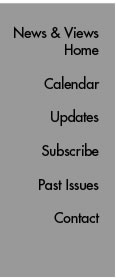 In Brief
Scripps Florida Receives Innovation and Entrepreneurialism Award
Scripps Florida has been selected as the recipient of the ITFlorida Innovation and Entrepreneurialism Award, which honors professionals or businesses that have demonstrated innovative and creative information technology solutions to business challenges. Winners are selected by ITFlorida, an umbrella organization of public and private technology leaders advocating sound public policy on technology issues and initiatives.
Scripps Florida's screening technology uses state-of-the-art robotics to speed the process of discovering new drugs to treat a variety of human illnesses. The Access to Technology and Scripps Research Molecular Screening Center programs enable scientists from Florida universities and other academic research institutions to use Scripps Florida's screening technologies for qualifying projects. The Molecular Screening Center is one of only four such large centers nationwide. The robots at the center are two of only a handful of such machines in nonprofit research institutions.
Scripps Florida was recognized at an October 6 awards gala in Orlando at Disney's Lake Buena Vista Resort.

Open Enrollment Begins!
Open Enrollment begins Monday, October 27 and runs through Friday, November 7, at 5 PM Pacific time. Open Enrollment is the annual opportunity for participants to make changes to their Scripps Research benefit selections and, if eligible, enroll (or re-enroll) in the Healthcare and/or Dependent Care Spending Accounts for the 2009 plan year. New plan information was emailed to participants' Scripps Research email addresses and should have been received by October 10.
Some things to keep in mind during Open Enrollment:
Scripps Research is now offering a new Aetna HMO for the Florida campus effective January 1, 2009. The plan includes $15 office visit co-pays with no annual deductible. For more information on the new plan, visit http://www.scripps.edu/hr/benefits/flhmo.html. This plan is offered at no cost for employee-only coverage.
Employees eligible for Group Life insurance will now have an option of obtaining either two times or three times annual salary in coverage. Individuals who currently have one times annual salary or the flat $10,000 coverage will automatically be moved to two times annual salary coverage effective January 1, 2009.
Please note if you participated in the Healthcare or Dependent Care Spending Accounts in 2008, you must log on and elect a new deferral amount to participate in 2009. Your 2008 selection will not automatically be applied to 2009.
Participants with questions regarding Open Enrollment should contact Human Resources at the Benefits Line, x4-8487 or benefits@scripps.edu.
For information on the upcoming California Benefit Fair—which will be held Wednesday, October 29, from 10 AM to 1 PM in the Beckman galleria—go to http://www.scripps.edu/hr/benefits/fairflyer2008.pdf.
For a schedule of Open Enrollment events on the California campus, go to http://www.scripps.edu/hr/benefits/calendaroe.html. Florida Open Enrollment events took place last week.
To login to the Open Enrollment system, go to https://openenrollment.scripps.edu.

STSI Invites Scripps Research Employees to Participate in Genome Study
Have you ever considered having your genome scanned? Now Scripps Research employees, family, and friends have the opportunity to receive a discounted rate—$250 instead of $2,500—by participating in a new study of the impact of personal genetic testing. The study will be run by the Scripps Translational Science Institute (STSI), in conjunction with Navigenics, Affymetrix, and Microsoft. STSI, led by physician-scientist Eric Topol, is a collaborative program between Scripps Research and Scripps Health, partnering with a number of institutions in San Diego. The deadline for enrollment at this discounted rate is Friday, November 7, after which time the cost increases. For more information, see http://www.stsiweb.org/scripps-genomic-health-initiative/ or contact Katrina Schreiber, katrinas@scripps.edu or x4-5708; Eric Topol etopol@scripps.edu or x4-5708; or Laura Ornowski at (858) 554-5736.

Upcoming Onsite Clinics
On Monday, October 27, Wednesday, October 29, and Friday, October 31, personnel from Sharp Rees-Stealy Medical Group will be onsite to conduct TB screenings, hepatitis B immunizations, serum draws, and tetanus immunizations.
The clinics will be conducted in the 3366 Building, in Room 325, on the third floor, from 11 AM to 2 PM on Monday, Wednesday, and Friday.
No appointments are necessary. TB screening requires a 48 to 72 hour follow-up. Individuals receiving the TB screen on Monday will need to return on Wednesday, and individuals screened on Wednesday, will need to return on Friday. Initiation of the TB screening process will not be available on Friday, but hepatitis B immunization, serum draws, and tetanus immunizations will be. To learn more about these programs, see the Environmental Health & Safety Occupational Medicine web page.
Send comments to: mikaono[at]scripps.edu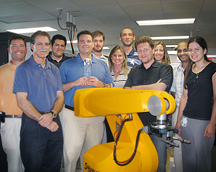 Scripps Florida has won the ITFlorida Innovation and Entrepreneurialism Award. Here, the Scripps Florida lead identification team poses for the occasion. Click to enlarge.