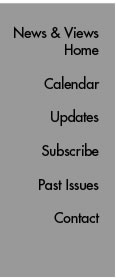 Study Unveils Structural Details of Enzyme Vital to DNA Repair
By Eric Sauter
Working in close collaboration, two groups of scientists at The Scripps Research Institute have revealed for the first time details of the crucial role played by the enzyme Mre11 in DNA repair, a process critical to cell survival and good health.
The findings suggest new strategies for targeting Mre11 protein for cancer therapies, particularly when combined with other inhibitors of DNA repair. Mre11 is a key component of cellular systems used for sensing, processing, and coordinating repair of two-stranded breaks in DNA. Mutations of this key enzyme can lead to the development of cancer.
The study was published in the October 3, 2008, issue (Volume 135, Number 7) of the journal Cell.
"Previous studies had suggested that Mre11 activity was not essential for initiation of homologous recombination repair—the critical pathway for error-free repair of DNA double-strand breaks," said John Tainer, a Scripps Research scientist and member of The Skaggs Institute for Chemical Biology, whose laboratory led the study with Scripps Research Professor Paul Russell. "Our work offers clear structural and biological evidence that Mre11 is central to the process, showing that Mre11 employs an endonuclease activity critical for initiation of recombination repair. This resolves paradoxes regarding the function of this nuclease, which has been recognized as the core components of the MRN complex, and gives us hope that we can target this key protein in cancer therapies."

Mre11 forms the core of the multifunctional Mre11-Rad50-Nbs1 (MRN) complex that detects DNA double-strand breaks, activates the ATM checkpoint kinase (which slows cell growth, giving the cell time to repair the breaks so that mutagenesis doesn't occur), and initiates homologous recombination repair of double-stranded breaks. Fission yeast, Schizosaccharomyces pombe, is often used as a model in cell cycle studies.
"The interesting thing about DNA repair biology," Tainer said, "is that cancer cells require intact DNA repair to maintain resistance to chemotherapies. The inhibition of recombination by targeting the Mre11 protein has significant promise for cancer therapeutics and could be combined with other inhibitors of DNA repair. Several studies in the past two years have reported mutations in MRN genes in several cancer types, especially colon and breast cancer."
Homologous recombination is a type of genetic recombination that involves the physical rearrangement and exchange of material between two strands of DNA. The process of homologous recombination occurs naturally, and is also utilized as a molecular biology laboratory technique for introducing genetic changes.
"Our study advances our understanding of how our cells handle DNA double-stranded breaks, whether the breaks are induced by exposure to environmental agents like radiation, or arise spontaneously due to errors in normal DNA metabolism," he said.
Cells balance DNA repair with DNA variation so that evolutionary or beneficial mutations can occur. In human cells, as many as 10,000 DNA bases are repaired each day, so these enzymes are essential to cell survival and protection against problematic mutations that may increase the risk of cancer.
New Structural Evidence
Using x-ray crystallography and small-angle x-ray scattering, the Scripps Research scientists were able to show precisely how these molecules bind to the DNA and how the core component of the complex—Mre11—is able to bridge the diverse molecular architectures found at DNA breaks.
"The structural evidence we uncovered provided us with molecular snapshots of the DNA binding event," said Russell. "When you break both strands of DNA, it's like breaking a piece of wood—you wind up with splintered ends with frayed tips. The Mre11 protein can not only recognize directly the broken ends of the DNA, it can also recognize those frayed ends with the overhanging DNA strands."
As a first responder to any double-stranded break, the MRN complex recruits the ATM checkpoint kinase, initiating a signaling cascade that leads to cell cycle arrest and checkpoint responses that are critical to maintaining the integrity of the human genome. Studies have shown that patients with mutations in the ATM gene are at much greater risk for cancer. But while the Mre11 complex subunits are essential for organism and cell viability in mammals, ATM is not; ATM activation is only one of the important Mre11 complex functions.
However, as the study noted, the Mre11 nuclease is found in every terrestrial organism on earth.
"Every creature has it," Tainer said. "It's a very ancient system of maintaining the integrity of DNA. That has been one of the striking things of our research that these same biochemical mechanisms appear to be maintained throughout the course of evolution."
The first authors of the study, Mre11 Dimers Coordinate DNA End Bridging and Nuclease Processing in Double Strand Break Repair, are R. Scott Williams and Gabriel Moncalian of The Scripps Research Institute. In addition to Tainer, Russell, Williams, and Moncalian, other authors of the study include David S. Shin, Chiharu Hitomi, Davide Moiani, Jessica S. Williams, Yoshiki Yamada, Oliver Limbo, Lynda M. Groocock, and Grant Guenther of Scripps Research; and Dana Cahill and James P. Carney of the University of Maryland School of Medicine. For more information, see Cell at http://www.cell.com/content/article/abstract?uid=PIIS0092867408010623.
The study was supported by the Canadian Institutes of Health Research, the Alberta Heritage Foundation for Medical Research, The Skaggs Institute for Chemical Biology at Scripps Research, the Uehara Memorial Foundation fellowship, the National Cancer Institute and the U.S. Department of Energy and MAGGIE (Molecular Assemblies, Genes, and Genomics Integrated Efficiently).
Send comments to: mikaono[at]scripps.edu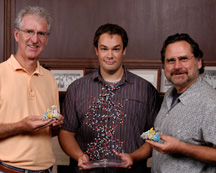 New research by Professor Paul Russell, Research Associate R. Scott Williams, and Professor John Tainer (left to right) sheds light on DNA repair, a process critical to cell survival and good health.
---

"The inhibition of recombination by targeting the Mre11 protein has significant promise for cancer therapeutics."
—John Tainer
---