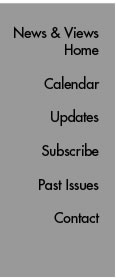 In Brief

Don't Miss the Fall Research Symposium
The Society of Fellows (SOF) welcomes faculty, staff, and students to this year's Fall Research Symposium, which features presentations by junior scientists, on Thursday, October 2, on the La Jolla campus. Topics will include chemistry, chemical biology, structural biology, molecular biology, cell biology, immunology, molecular, and experimental medicine, neurosciences, and translational research. In total, 55 abstracts will be presented during an oral session (Keck Amphitheater, 12:40 - 5 PM) and a moderated poster session (Beckman galleria, 5 - 6:30 PM; posters will be available for viewing starting at 10 AM). Presenters in both sessions will compete for cash prizes awarded for best in category.
Keynote lectures will feature Don Ganem of the University of California, San Francisco, speaking on "Noncoding RNAs and the Biology of Kaposi's Sarcoma-Associated Herpesvirus" (Keck Amphitheater, 11:30 AM - 12:30 PM), and Laura Kiessling of the University of Wisconsin-Madison, speaking on "Chemical Probes of Carbohydrate Biosynthesis in Mycobacteria" (Keck Amphitheater, 2:30 - 3:30 PM).
For more information on the event, which is co-sponsored by the Career and Postdoctoral Services Office, see SOF's Fall Research Symposium webpage.

Team ScrippsAssists Shows Heart
At the 17th Annual San Diego Start! Heart Walk in Balboa Park on September 20, 30 walkers from the Scripps Research team raised money for the American Heart Association (AHA). The team, coordinated by Scripps Research employee volunteer group ScrippsAssists, has raised a total of $1,380 to date, and the AHA will continue to accept donations toward the Heart Walk until October 20.
"We were so excited for TSRI to make its debut at the Heart Walk this year, and are looking forward to building on this experience for next year's walk," says Administrative Assistant Himne Lemmer of ScrippsAssists. "We got to know our fellow walkers, including four-year-old Lucy, the boxer. The youngest team member was Hari Wentworth, three, and he was such a good sport! Our oldest walker was Robert Powell, 72, a survivor who has run 13 marathons since his recovery-what an inspiration!"
The ScripssAssists organizers wish to thank the many supporters and participants of the effort, including the walkers, the administrative assistants who helped spread the word about the event and collected donations, and Cary Thomas, Judith Muñoz, and Nancy De Monte. The organizers also send a big thank you to their friends at Andrew's Café who sponsored the food at the Eat4Health luncheon, and to Tom and Cristy of the Field of Beans who placed the paper heart display at the Beckman coffee cart.
For photos of the event, see the ScrippsAssists album. To make a donation, go to the team's webpage.

Tired of Paying for Gas? Learn about RideLink
In response to the high price of gas, the Scripps Research Benefits group has arranged for a lunchtime seminar by Deborah Jones, account executive at RideLink, who will speak on the organization's programs on Monday, September 29, from 1 to 2 PM. RideLink, a division of the San Diego regional planning association SANDAG, assists commuters with transit options, including a regional vanpool program, ride-matching services, a guaranteed ride home program, and regional bicycle lockers. The presentation will be held in W. M. Keck Foundation Amphitheater in the Beckman Building, Scripps Research La Jolla campus.
For more information on commuting options, see also the Scripps Research Benefits Transit webpage at http://www.scripps.edu/hr/benefits/transit.html.

New English-as-a-Second-Language Classes to Begin
A new series of English-as-a-second-language classes will begin Tuesday, October 7. The class meets from 6:30 to 8:30 PM every Tuesday in the Immunology building west conference room, La Jolla campus. The price for three months (12 classes) is $60.
Each intermediate-level English class is divided into speaking and listening, idioms and vocabulary, and reading and writing. If you would like to improve your English communication skills, as well as understand your friends and colleagues, movies, television shows, and the news, this class is for you. The teacher uses movies, games, television shows, grammar books, songs, drawing and novels to teach standard American English. Have fun and learn English at the same time! For more information, please leave a message at x4-2176
Send comments to: mikaono[at]scripps.edu