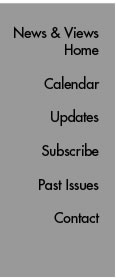 In Brief

Career Workshop Series: "Networking for Scientists"
Peggy Wallace of Making Conversation, LLC, will present "Networking for Scientists," on Thursday, September 18, from 2 to 3:30 PM. The workshop will help scientists learn new tips and refresh skills on the finer points of networking to effectively meet industry leaders. The workshop, sponsored by the Society of Fellows and the Career and Postdoctoral Services Office, will be held in the Keck Amphitheater, Beckman Center. No RSVP is required. This presentation is organized to complement the upcoming Transition to Industry Symposium at Biogen Idec (below), but all are welcome to attend the seminar.

Transition to Industry Symposium
A two-day "Transition to Industry Symposium" will be held on Friday, September 19 and Saturday, September 20 to help San Diego postdocs and graduate students connect with local industry experts. Hear about the region's life science industry, find out what it takes to transition from academic to industry jobs, and learn how to market yourself to hiring managers. The event, which costs $50, will be held at Biogen Idec. Scripps Research postdocs who attend may be eligible for reimbursement through the Society of Fellows Course Reimbursement Program (see http://www.scripps.edu/services/postdocs). To register, go to http://postdoc.biocomworkforce.org/events/. For more information, email rwheeler@scripps.edu.

Safety Gram Live!: "Protecting San Diego's Water Resources"
Environmental Health & Safety will host Kimberly O'Connell and Valerie Fanning of the University of California, San Diego (UCSD) Environmental Affairs Division, speaking on "Protecting San Diego's Water Resources," Monday, September 15, from noon to 1 PM. Come find out what we can do to help prevent or reduce the discharge of pollutants into our environment and protect San Diego's way of life.
The event will be held in the Beckman Building, Keck Auditorium; RSVP to Danielle DeLorme at ddelorme@scripps.edu. Lunch will be provided, and a raffle will be held for those who RSVP and are in attendance. For more information on the event, contact Julio Giannotti, at x4-8462 or julio@scripps.edu.

Lunch & Learn: "Presidential Trivia"
Richard Lederer, best-selling author and verbivore emeritus of KPBS's "A Way With Words," will speak on "Presidential Trivia" as part of the ongoing employee Lunch & Learn seminar series on Thursday, September 25, from noon to 1 PM. Speaking from his latest book, Presidential Trivia: The Feats, Fates, Families, Foibles, and Firsts of Our American Presidents, Lederer will share intriguing firsts, mosts, onlys, patterns, and quizzes about American presidents, vice presidents, and first ladies.
The event, sponsored by the Counseling and Psychological Services Department, will be held in the Keck Amphitheater of the Beckman Building. Lederer's books will be available for purchase at the workshop (a price list is available online) or bring your book from home for a personal inscription.

Upcoming Onsite Clinics
On Monday, September 22, Wednesday, September 24, and Friday, September 26, personnel from Sharp Rees-Stealy Medical Group will be onsite to conduct TB screenings, hepatitis B immunizations, serum draws, and tetanus immunizations.
The clinics will be conducted in the 3366 Building, in Room 325, on the third floor, from 11 AM to 2 PM on Monday, Wednesday, and Friday.
No appointments are necessary. TB screening requires a 48 to 72 hour follow-up. Individuals receiving the TB screen on Monday will need to return on Wednesday, and individuals screened on Wednesday, will need to return on Friday. Initiation of the TB screening process will not be available on Friday, but hepatitis B immunization, serum draws, and tetanus immunizations will be. To learn more about these programs, see the Environmental Health & Safety Occupational Medicine web page.
Send comments to: mikaono[at]scripps.edu