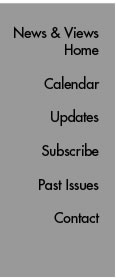 In Brief
Library Tip: Get Connected
Do you want to discuss, collaborate, or network with other scientists in your field of research? A number of websites designed specifically to create scientific communities are available:

Results from 13th Annual Scripps Research Employee Golf Tournament
On the afternoon of Thursday, August 7, 36 teams comprised of 142 golfers representing Scripps Research scientists and staff, their friends, and colleagues competed for trophies and prizes during the Scripps Research 13th annual employee golf tournament. This year's fun-filled event, held under the simmering sun at The Vineyard at Escondido Country Club, was the closest match in the history of the tournament with three teams tying for a low score of nine under par. Settled by a tie breaker formula, the winning teams were:
1st place: Ian Wilson, David Marciano, Scott Burton, and Giorgio Gentile
2nd place: Steve Mayfield, Kim Janda, Andrew Hsieh, and Bill Locken
3rd place: Dave Root, Chris Dudley, Matt Barnas, and Eric Hernandez
"The last place team, who shall remain anonymous, received dance lessons along with 'Doormats' trophies," said Tom Barmeyer, who organized the event. "Rumors have it that one senior faculty participant actually had fishing rods in his bag instead of clubs!"
Barmeyer adds that the tournament is a great opportunity to get to know your fellow scientists, grad students, and shared and support staff, so anyone who missed out on this year's event should consider participating next year.

ScrippsAssists and Andrew's Cafe Sponsor Eat 4 Health
To support American Heart Association's 2008 San Diego Start! Heart Walk, ScrippsAssists and Andrew's Cafe are sponsoring Eat 4 Health, a benefit luncheon on Wednesday, August 27, from 12:30 to 2 PM, on the patio outside Andrews Cafe (which is located at 3300 N. Torrey Pines Court, in the same building as the Graduate Office). Including drinks, lunch offers top-rated recipes including whole grains, lean meats, and vegetarian options! Tickets are $5 through Tuesday, August 26, and $7 at the door; 100 percent of the proceeds go to the American Heart Association.
ScrippsAssists is also encouraging Scripps Research employees who have not already done so to sign up for the American Heart Association's 2008 San Diego Start! Heart Walk, on Saturday, September 20, in Balboa Park. The walk is 5K and non- competitive, and you are free to bring friends and family. Pets are welcome in the pet zone. Registration is free, fast, and easy at:
http://heartwalk.kintera.org/sandiegoca/scrippsassists
(click on "Join Our Team"; click on the waiver option; complete your
registration). Once registered, you will have your own, free web page
where you can make a donation, and have the option to invite
family/friends to add their donations. For those who want to
contribute, but are unable to attend the walk, please click on
"General Team Donation." For more information, contact Taylor Cohen,
x4-7370 or taycoh@scripps.edu, or Himne Lemmer, x4-2771 or
hlemmer@scripps.edu.

News&Views Observes Labor Day
News&Views will not be published next week due to the Labor Day holiday. Regular, weekly publication will resume with the Monday, September 8, 2008, issue.
Send comments to: mikaono[at]scripps.edu