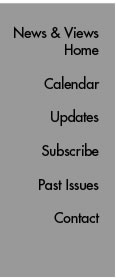 In Brief

Get Ready for the Fall Research Symposium
The 2008 Fall Research Symposium—an annual retreat for postdocs and a popular scientific event—will be held Thursday, October 2, 2008. Hosted by the Scripps Research Society of Fellows and the Postdoctoral Services Office, this symposium provides postdoctoral fellows with the opportunity to present their work. Abstracts for oral or poster presentations will be considered in the following fields: Immunology, Molecular/Cellular Biology, Chemistry/Structural Biology, and MEM/Neurosciences//Translational Research. The deadline for abstracts is Wednesday, August 20; to submit your abstract, see http://www.scripps.edu/services/sof/symposia/. For more information, contact Ryan Wheeler, rwheeler@scripps.edu.

Library Tip: Updated, Enhanced ISI Web of Knowledge Databases
The ISI Web of Knowledge databases now offer some additional features, including:
• A new citation mapping option that enables you to visualize both forward and backward citations
• Digital object identifiers (DOI) now available within the Web of Science record and for export into EndNote
• 2007 data for Journal Citation Reports, which can help determine a publication's impact factor and influence .

Join ScrippsAssists at the San Diego Start! Heart Walk
Employee volunteer group ScrippsAssists invites Scripps Research employees to join the American Heart Association's 2008 San Diego Start! Heart Walk, on Saturday, September 20, in Balboa Park. The walk is 5K and non-competitive, and you are free to bring friends and family. Pets are welcome in the pet zone. Registration is free, fast, and easy at: http://heartwalk.kintera.org/sandiegoca/scrippsassists (click on "Join Our Team"; click on the waiver option; complete your registration). Once registered, you will have your own, free web page where you can make a donation, and have the option to invite family/friends to add their donations. For those who want to contribute, but are unable to attend the walk, please click on "General Team Donation." For more information, contact Taylor Cohen, x4-7370 or taycoh@scripps.edu, or Himne Lemmer, x4-2771 or hlemmer@scripps.edu.
Send comments to: mikaono[at]scripps.edu