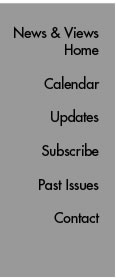 In Brief

Postdoc Career Workshop Series: "Dining and Reception Etiquette for Scientists"
Nancy De Monte, Scripps Research Faculty Club coordinator, and Ryan Wheeler, manager of the Scripps Research Postdoctoral Services Office, will facilitate "Professional Etiquette Workshop & Reception for Postdocs" on Thursday, August 14, from 3 to 4:30 PM. Build your confidence in business social settings with this networking reception and interactive discussion, featuring demonstrations and tips for business dining, making a memorable impression at receptions, and professionalizing your appearance. The workshop will also cover how to "work a room" and make appropriate small talk, as well as topics such as table manners, place settings, and buffet table etiquette. Refreshments will be provided. There is no fee for this event—which is sponsored by the Postdoctoral Services Office and Society of Fellows—but registration is required. If you're interested, contact rwheeler@scripps.edu.

Help Name the New Cafeteria
The TSRI Café at 3300 Torrey Pines Court will be closed for major remodeling in mid-August (exact dates to be announced). The cafeteria is scheduled to reopen in early September with brand new décor and a new menu. During the renovation, the café at 3040 Science Park Drive will remain open.
Andrew Shih of the Cafeteria is asking for help renaming the facility in honor of its grand re-opening. The person who comes up with the chosen name will receive a $50 gift certificate. Stop by the café at 3300 Torrey Pines Court to pick up an entry form. Good luck!

Upcoming Onsite Clinics
On Monday, July 14, Wednesday, July 16, and Friday, July 18, personnel from Sharp Rees-Stealy Medical Group will be onsite to conduct TB screenings, hepatitis B immunizations, serum draws, and tetanus immunizations. The clinics will be conducted in the 3366 Building, in Room 325, on the third floor, from 11 AM to 2 PM on Monday, Wednesday, and Friday.
No appointments are necessary. TB screening requires a 48 to 72 hour follow-up. Individuals receiving the TB screen on Monday will need to return on Wednesday, and individuals screened on Wednesday, will need to return on Friday. Initiation of the TB screening process will not be available on Friday, but hepatitis B immunization, serum draws, and tetanus immunizations will be. To learn more about these programs, see the Environmental Health & Safety Occupational Medicine web page.
Send comments to: mikaono[at]scripps.edu