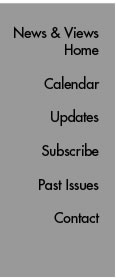 Etcetera

Jeanne Loring Wins Millipore Grant
Scripps Research Institute Professor Jeanne Loring has won a grant from Millipore Corporation, a firm that provides technologies, tools, and services for bioscience research and manufacturing. The $150,000 grant will support Loring's work in stem cell research, specifically her investigation of human pluripotent stem cells, which hold promise for drug development and cell therapy.
"Through this grant, we are able to support innovative stem cell research projects that we believe may be the key to solving a number of human health issues," said Martin Madaus, Millipore chairman and CEO. "We are pleased to offer this grant to Dr. Loring, who exemplifies the ground-breaking nature of this award through her extensive work in the stem cell field."
Loring received the award at a presentation at the 2008 BIO International Convention in San Diego, California, in June.

Ian MacRae Selected as Pew Scholar
Scripps Research Assistant Professor Ian MacRae has been selected as a 2008 Pew Scholar in the Biomedical Sciences by the Pew Charitable Trusts and the University of California at San Francisco (UCSF). As a Pew Scholar in the Biomedical Sciences, MacRae will receive four years of support for his research and join a unique community of scientists that encourages collaboration and exchange of ideas.
The prestigious Pew Scholars Program in the Biomedical Sciences, funded by Pew through a grant to UCSF, supports early to midcareer scientists. The selection process for the scholarship is rigorously competitive, and applicants must be nominated by an invited institution and demonstrate excellence and innovation in their research.
MacRae's research combines structural biology, biochemistry, and cell biology to understand mechanisms of gene regulation by RNA interference. His findings could yield important insights into the function of microRNAs that might provide scientists with better tools for controlling gene activity in experimental systems and with potential new approaches to drug development.

Kuhn Lab Brings Home Microsoft Innovation Award
Thanks to work in the Kuhn laboratory, Scripps Research has been awarded a Microsoft 2008 Pharmaceutical and Life Sciences Innovation Award with the firm InterKnowlogy in recognition of the collaboration's innovative use of Microsoft-based solutions.
The team from Scripps Research and InterKnowlogy designed a custom solution using Microsoft .NET Framework 3.0, Windows Vista, and Microsoft Office SharePoint Server 2007 to display cellular, molecular, and atomic levels in 2D and 3D, while providing tools for annotations. The result was a newfound ability to link multiple kinds of data to an image, making it easier and faster to send information from experiments among scientists collaborating on a project.
The award was announced at the Drug Information Association's 44th Annual Conference in Boston on June 25.

Library Tip: JACS Beta
The Journal of the American Chemical Society has launched JACS Beta, an experimental website that explores different and innovative ways to share chemical research. It is freely available and encourages its readers' participation in evaluating new features. One of the features being tested is JACS Virtual Issues, thematic collections of the best recently published JACS papers. Virtual Issue #1, Total Synthesis of Biologically Active Natural Products, includes papers from the Scripps Research Baran and Nicolaou labs. The new website also offers an interview with Scripps Florida's Professor William R. Roush, who edited the first Virtual Issues collection.
Send comments to: mikaono[at]scripps.edu

Selected for Exhibition: Image by Bob Turner


An image by Bob Turner, director of Scripps Research BioMedical Graphics, has been selected as part of the Images from Science 2 traveling exhibition and catalogue sponsored by the School of Photographic Arts & Sciences at the Rochester Institute of Technology. The image, a florescence photomicrograph, illustrates cell growth in individual bone cells.
Benvenuti a Scripps Research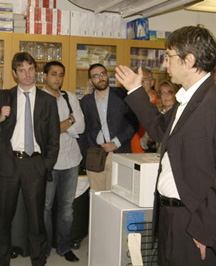 Associate Professor Bruno Conti (right) talks about scientific endeavors at Scripps Research to a group of 38 biotech and pharmaceutical executives from Italy visiting the La Jolla campus during the 2008 BIO International Convention in San Diego.