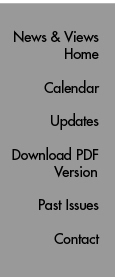 In Brief

Lunch & Learn: "Assertiveness 101"
Daphne Lurie, counseling psychologist in the Counseling and Psychological Services Department, will present "Assertiveness 101," on Tuesday, June 17, from noon to 1 PM as part of the ongoing Lunch & Learn employee seminar series. Participants will learn what appropriate assertiveness is, explore four common interpersonal styles, and determine how they can apply assertiveness techniques in daily interactions. The workshop, arranged by the Office of Counseling and Psychological Services, will be held in the Keck Amphitheater, Beckman Building, La Jolla, California campus.

New English-as-a-Second-Language Classes to Begin
A new series of English-as-a-second-language classes will begin Tuesday, June 24. The class meets from 6:30 to 8:30 PM every Tuesday in the Immunology building west conference room, La Jolla campus. The price for three months (12 classes) is $60.
Each intermediate-level English class is divided into speaking and listening, idioms and vocabulary, and reading and writing. If you would like to improve your English communication skills, as well as understand your friends and colleagues, movies, television shows, and the news, this class is for you. The teacher uses movies, games, television shows, grammar books, songs, drawing and novels to teach standard American English. Have fun and learn English at the same time! For more information, please leave a message at x4-2176.

Next IBC Meeting Scheduled
he next meeting of the Institutional Biosafety Committee (IBC) will be held on Wednesday, July 9. To receive IBC consideration at the next meeting, please submit your completed registration documents to Environmental Health & Safety at rachellv@scripps.edu, by Friday, June 27.
Send comments to: mikaono[at]scripps.edu