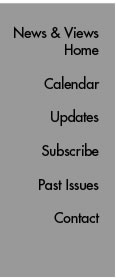 In Brief

Library Tip: e-EROS Now Available Online
The Kresge Library is pleased to announce a new resource, e-EROS, the online version of the critically acclaimed Encyclopedia of Reagents for Organic Synthesis.
After seeing how heavily used the print edition was, Kresge library staff investigated online access for the institute. e-EROS is updated regularly and allows searching by reagent, catalyst, solvent, product yield, temperature, authors, reference, and year. There is also structure and reaction searching. e-EROS contains 70,000+ reactions and 4000 reagents.
Comments and questions can be directed to the Kresge Library, x4-8705 or helplib@scripps.edu.

Lunch & Learn: "Can I Be Green?"
Biologist Bill Toone, executive director of the Eco-Life Foundation who has worked on conservation projects in Africa, Asia and the Americas, will give a workshop "Can I Be Green?" Tuesday, May 20, as part of the ongoing California employee Lunch & Learn seminar series. In the seminar, Toone will share insightful information on ways to go green that are easy to implement and cost-effective, how to save vital resources without restricting your quality of life, and current eco-issues and possible solutions. The seminar, arranged by the Office of Counseling and Psychological Services, will be held in the Committee Lecture Hall, MBB2, La Jolla campus.

Visit the Vendor Show
The 2008 Vendor Show on Wednesday, May 21, from 9 AM to 2:30 PM, will host more than 100 companies in and around the Immunology, Molecular Biology, and Beckman Buildings on the California campus. Come to the vendor show to catch up on the latest technologies, and ask questions and get advice from company representatives. In addition, the Society of Fellows will sponsor a Jamba Juice giveaway and a gift drawing of five $100 gift cards from Westfield Shopping Center. For more information, see the Society of Fellows web site.

Health Fair with Flair
The annual Scripps Research California campus health fair is coming up on Thursday, May 22 from 11 AM to 1 PM on the walkway in front of the Immunology building. A variety of health and wellness topics will be addressed, including fitness, nutrition, and safety. There will be health and wellness screenings, fitness and recreation demonstrations, chair massages, giveaways, and food samples from your favorite local restaurants. All Scripps Research employees and graduate students are invited to participate in this fun and educational event.
Among the Health Fair participants will be Scripps Research Department of Environmental Health & Safety, which invites you to take the ENERGY STAR Change a Light Pledge. Sign up to pledge to change at least one light at home with an energy-efficient compact fluorescent light bulb (CFL) at http://www.scripps.edu/researchservices/ehs/energystar.html and visit the EH&S table at the fair to receive one of these bulbs free.

News&Views to Begin Summer Publication Schedule
News&Views will not be published next week due to the Memorial Day holiday. From Monday, June 2 to Monday, August 25, News&Views will be published on its summer schedule, every other week. The deadline for announcement and calendar submissions is Wednesday at noon for the following Monday's issue.
Send comments to: mikaono[at]scripps.edu