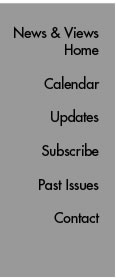 In Brief

Gary Bokoch to Speak in Faculty Lecture Series
Professor Gary Bokoch will speak on "Linking Rho GTPase Signaling Dynamics to the Cytoskeletal Machinery" on Wednesday, May 14, as part of the Faculty Lecture Series. The lecture will be held at 5 PM in the Valerie Timken Amphitheater, Scripps Clinic, 10666 North Torrey Pines Road, La Jolla.

"Ten Tips" from Counseling Services
The Counseling and Psychological Services Department is launching a regular series of articles featuring suggestions on topics ranging from relationships to assertiveness, stress management to parenting concerns. The articles are presented in a bullet point format for quick reading and easy application to real-life situations. The newest article, "10 Tips for Spring Romance," by Scripps Research Counseling Psychologist Daphne Lurie, is available at the Counseling and Psychological Services website.

Lunch & Learn: "Can I Be Green?"
Biologist Bill Toone, executive director of the Eco-Life Foundation who has worked on conservation projects in Africa, Asia and the Americas, will give a workshop "Can I Be Green?" Tuesday, May 20, as part of the ongoing California employee Lunch & Learn seminar series. In the seminar, Toone will share insightful information on ways to go green that are easy to implement and cost-effective, how to save vital resources without restricting your quality of life, and current eco-issues and possible solutions. The seminar, arranged by the Office of Counseling and Psychological Services, will be held in the Committee Lecture Hall, MBB2, La Jolla campus.

Visit the Vendor Show
The 2008 Vendor Show on Wednesday, May 21, from 9 AM to 2:30 PM, will host more than 100 companies in and around the Immunology, Molecular Biology, and Beckman Buildings on the California campus. Come to the vendor show to catch up on the latest technologies, and ask questions and get advice from company representatives. In addition, the Society of Fellows will sponsor a Jamba Juice giveaway and a gift drawing of five $100 gift cards from Westfield Shopping Center. For more information, see the Society of Fellows web site.

Health Fair with Flair
The annual Scripps Research California campus health fair is coming up on Thursday, May 22 from 11 AM to 1 PM on the walkway in front of the Immunology building. A variety of health and wellness topics will be addressed, including fitness, nutrition, and safety. There will be health and wellness screenings, fitness and recreation demonstrations, chair massages, giveaways, and food samples from your favorite local restaurants. All Scripps Research employees and graduate students are invited to participate in this fun and educational event.
Among the Health Fair participants will be Scripps Research Department of Environmental Health & Safety, which invites you to take the ENERGY STAR Change a Light Pledge. Sign up to pledge to change at least one light at home with an energy-efficient compact fluorescent light bulb (CFL) at http://www.scripps.edu/researchservices/ehs/energystar.html and visit the EH&S table at the fair to receive one of these bulbs free.

California Emergency Hotline Reminders
CAMPUS STATUS HOTLINE—(858) 784-7000: The Scripps Research administration reminds California employees that in any regional emergency the campus's emergency hotline—(858) 784-7000—is available with a recorded message on the work status of the campus. The institute's web site and email system will continue to be another source of information. Also in the event of a regional disaster, 2-1-1 is another important number to know. The 2-1-1 number provides information about community, health, and disaster services in San Diego County; for more information, see http://www.211sandiego.org/.
FOR CAMPUS EMERGENCY, DIAL "77": In the event of an emergency on the California campus, employees should contact the security console operator located at the Beckman Center front entrance. All telephones are set up so that when you dial "77" you will automatically be connected with this security operator. When you dial "77," the security operator will answer, take some preliminary information, and then tell you to hold while he/she transfers you to the 911 operator. It is important that you not hang up during this transfer; the line will be silent until the 911 operator answers (this may take over a minute). During your call, other members of the Scripps Research Emergency Response Team will be alerted, so they can also provide assistance.
All Scripps California telephones should have a sticker reminding you to use the "77" number in the event of an emergency. If you have any questions or concerns about reporting a campus emergency, or need a new sticker for your phone, please contact Environmental Health & Safety at x4-8240.
Send comments to: mikaono[at]scripps.edu


Introducing Scripps California Sushi Bar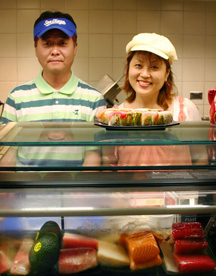 Newly arrived chef Joon-San and his wife, kitchen whiz Jinna Lee, welcome customers to the Scripps California cafeteria at 3301 N. Torrey Pines Court—which has added fresh-made sushi to its everyday menu of offerings.