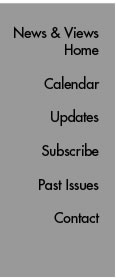 In Brief

Hugh Rosen Elected to Association of American Physicians
Scripps Research Institute Professor Hugh Rosen was one of 55 new members elected to the Association of American Physicians, a nonprofit, professional organization founded in 1885 by William Osler. Election is based on the achievement of "excellence in the pursuit of medical knowledge, and the advancement through experimentation and discovery of basic and clinical science and their application to clinical medicine."
Rosen's election became official at the Association of American Physicians annual meeting held in Chicago, Illinois, from April 25 to 27.
Other members of the association at Scripps Research include: Bruce Beutler, Ernest Beutler, Joel Buxbaum, Francis Chisari, Charles Cochrane, Neil Cooper, Thomas Deuel, Thomas Edgington, Michael Oldstone, Zaverio Ruggeri, Eng Tan, Argyrios Theofilopoulos, and Eric Topol.

Nicole Steinmetz Wins Travel Award
Nicole Steinmetz of the Manchester lab has won a travel award from the National Institutes of Health (NIH). The award, administered by the American Society of Virology, will enable Steinmetz to attend the 2008 American Society for Virology 27th annual meeting at Cornell University, Ithaca, New York, in July. Steinmetz will speak on "Re-targeting viral nanoparticles in vivo."

Department Name Change: Goodbye "Research Computing," Hello "IT Services"
Research Computing has changed its name to IT Services. Visit the department's web page for updates and information or its FAQ page for additional background about the services the department offers in both California and Florida.

Look Out for Spring Craft Fair and Raffle
The ScrippsAssists Spring Craft Fair and Raffle will be held on Thursday, May 8, from 11 AM to 1:30 PM, offering an opportunity for employees to buy gifts (Mother's Day is May 11) and to support the employee volunteer group ScrippsAssists.
About 30 Scripps Research employees will be selling items including plants; jewelry; purses; photo albums and frames; baby clothes; soaps; wood crafts; wall hangings; stone art; and delicacies such as homemade chocolates, cookies, brownies, and caramel apples.
In addition, anyone at the fair can buy an unlimited number of tickets for the ScrippsAssists raffle at $1 each and you need not be present to win. Prizes are:
Two round-trip airline tickets anywhere Southwest Airlines flies, donated by Culinary Concepts
Passes to the Birch Aquarium
A gift basket donated by the San Diego County Credit Union (with a $25 gift card to the California Pizza Kitchen, movie tickets and more goodies)
A gift certificate from Andrew's Café
A personal training session with Beth Peterka
A gift certificate from Board & Brew

Upcoming Onsite Clinics
On Monday, May 5, Wednesday, May 7, and Friday, May 9, personnel from Sharp Rees-Stealy Medical Group will be onsite to conduct TB screenings, hepatitis B immunizations, serum draws, and tetanus immunizations.
The clinics will be conducted in the 3366 Building, in Room 325, on the third floor, from 11 AM to 2 PM on Monday, Wednesday, and Friday.
No appointments are necessary. TB screening requires a 48 to 72 hour follow-up. Individuals receiving the TB screen on Monday will need to return on Wednesday, and individuals screened on Wednesday, will need to return on Friday. Initiation of the TB screening process will not be available on Friday, but hepatitis B immunization, serum draws, and tetanus immunizations will be. To learn more about these programs, see the Environmental Health & Safety Occupational Medicine web page.
Send comments to: mikaono[at]scripps.edu


E-Waste Collection Perfection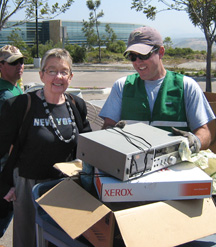 Environmental Health & Safety's first Earth Day E-Waste event last week helped Scripps Research employees properly dispose of 3,488 pounds of cathode ray tube (CRT) materials, 300 pounds of liquid crystal display (LCD) monitors and laptops, 1,851 pounds of computers, and 3,637 pounds of other e-waste—a grand total 8,396 pounds of e-waste. Here, Michael O'Sullivan of EH&S helps Eleanore Lukaschewski at the free event.

ScrippsAssists Hosts Open House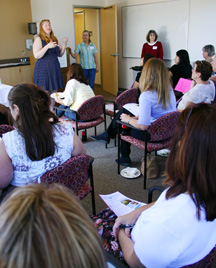 Employee volunteer club ScrippsAssists recently held two open house luncheons for administrative assistants to help spread the word about its program. "We had a good response," said Holly Wheeler, an administrative assistant who helps coordinate the program. "We recruited a number of new volunteers."