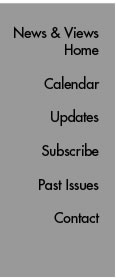 In Brief

Researchers Encourage Girls Interested in Science
The Scripps Research Institute was well represented at the recent San Diego Expanding Your Horizons conference, aimed at encouraging hundreds of young girls who might be interested in science or math as a career.
Two Scripps Research scientists, Research Associate Leah Shriver of the Manchester lab and Senior Research Associate Hua "Holly" Jing of the Ruggeri lab, presented hands-on workshops. Applications Analyst Christoph Weber of Research Computing, who presented at last year's conference, assisted in the preparation. Scientific Associate Kelly Dryden of the Yeager lab helped organize the April 12 happening as a member of the event's conference committee.
"I volunteered because I believe that it is our responsibility as scientists to communicate what we do to a wider audience," says Shriver, whose workshop captured the girls' interest with a game illustrating different aspects of the immune system. "These girls are future taxpayers who will fund research and consumers who will use drugs developed from basic research, so it is important that they have the knowledge to make good decisions. I also hoped to encourage girls to pursue careers in science and math. The girls asked really good questions and were enthusiastic, so it was very fun."
Jing added that, in addition to the opportunity to educate girls about science and scientific careers, she gained valuable teaching experience at the event.
For more information on the Expanding Your Horizons network, see http://www.expandingyourhorizons.org/.

Career Seminar: Making the Most of Your Presentation
Physicist, engineer, and communications trainer Jean-Luc Doumont will speak on "Making the Most of Your Presentation," on Tuesday, April 29, from 1 to 2:30 PM. In addition to offering tips on how to handle nervousness, Doumont proposes a five-step methodology that leads to effective presentations: planning, designing the presentation, creating visuals, delivering the presentation, and answering questions. The seminar, which is sponsored by the Scripps Research Postdoctoral Services Office, Office of Graduate Studies, and Society of Fellows, will be held in the Keck Amphitheater, Beckman Center, Scripps California campus. No RSVP is necessary.

Reminder: Scientific Report Deadline May 9
The due date for faculty submissions for the next Scientific Report will be Friday, May 9. The book will go to press in November for an early January distribution.
Reports may be submitted either on disk or via email to Jann Coury (mail drop TPC-30; email jcoury@scripps.edu). Either way, please also provide a printout of your report and images to your departmental administrator. Additional instructions are available in the guidelines at: http://www.scripps.edu/news/sr/2008guides.pdf.

Upcoming Onsite Clinics
On Monday, May 5, Wednesday, May 7, and Friday, May 9, personnel from Sharp Rees-Stealy Medical Group will be onsite to conduct TB screenings, hepatitis B immunizations, serum draws, and tetanus immunizations.
The clinics will be conducted in the 3366 Building, in Room 325, on the third floor, from 11 AM to 2 PM on Monday, Wednesday, and Friday.
No appointments are necessary. TB screening requires a 48 to 72 hour follow-up. Individuals receiving the TB screen on Monday will need to return on Wednesday, and individuals screened on Wednesday, will need to return on Friday. Initiation of the TB screening process will not be available on Friday, but hepatitis B immunization, serum draws, and tetanus immunizations will be. To learn more about these programs, see the Environmental Health & Safety Occupational Medicine web page.
Send comments to: mikaono[at]scripps.edu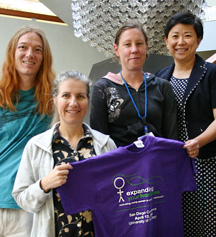 Scripps Research participants in the 2008 Expanding Your Horizons
conference, which aimed to interest girls in science, included (left to
right) Christoph Weber, Kelly Dryden, Leah Shriver, and Hua "Holly" Jing.