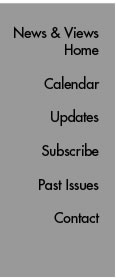 In Brief

Cindy Ehlers to Speak in Faculty Lecture Series
Associate Professor Cindy Ehlers will speak on "Genetic Factors Underlying Ethnic Differences in Risk for Alcohol Dependence," on Wednesday, April 9, as part of the Faculty Lecture Series. The lecture will be held at 5 PM in the Timken Amphitheater, Scripps Clinic, 10666 North Torrey Pines Road, La Jolla, California.

Lunch & Learn: "Assertiveness 101"
Daphne Lurie, counseling psychologist in the Counseling and Psychological Services Department, will present "Assertiveness 101," on Tuesday, April 22, from noon to 1 PM as part of the ongoing Lunch & Learn employee seminar series. Participants will learn what appropriate assertiveness is, explore four common interpersonal styles, and determine how they can apply assertiveness techniques in daily interactions. The workshop, arranged by the Office of Counseling and Psychological Services, will be held in the Keck Amphitheater, Beckman Building, La Jolla, California campus.

Benefits Update: Changes in Workers' Compensation Administration
Human Resources announces a new workers' compensation carrier and medical provider network, effective April 1, 2008. The new carrier is Hartford and the new medical provider network is B.C. Life and Health. This change applies only to workers' compensation claims.
If you sustain a work-related injury on or after April 1, your treatment must be within the new medical provider network unless you have properly pre-designated your personal physician prior to the injury to provide such care. The Sharp Rees-Stealy Clinic currently used for the treatment of work-related injuries and illnesses is a provider in the new network. Please read the full medical provider network notice at http://www.scripps.edu/hr/benefits/forms/initialMPNnotice.pdf.
If you have any questions, please contact Benefits Administration, x4-8487 or benefits@scripps.edu. If you wish to pre-designate your personal physician, fill out the form at http://www.scripps.edu/hr/benefits/forms/PredesignationForm9783English.pdf
and return it to Benefits, Mail Drop TPC11.

Heads Up Parents: Look Out for First Summer Camp Fair
Scripps Research Human Resources will host its first Summer Camp Fair on Thursday, April 17, from 11 AM to 1 PM, on the Immunology breezeway, La Jolla, California. Representatives from a variety of children's summer camps from all around San Diego County will be available to answer questions and distribute brochures with detailed camp information. Come by the fair and see what kind of fun, creative activities are available for your children this summer.

Spring Break for News&Views
News&Views will not be publishing Monday, April 14 due to Spring Break. Regular weekly publication will resume with the April 21 issue.
Send comments to: mikaono[at]scripps.edu

Donors Meet the Next Generation of Scientists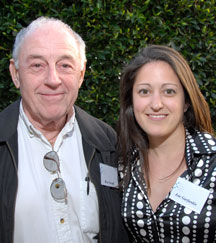 Long-time Scripps Research Institute donor Ron Newell of San Diego chats with graduate student Joie Garfunkle at the March 25 Frontiers in Science event featuring information on the Kellogg School of Science and Technology. Garfunkle spoke to the group on her research, "A New Avenue in Pain and Sleep Therapeutics."