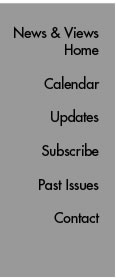 In Brief
Expand Your Horizons at the Grantsmanship and Funding Fest
The San Diego Postdoc Training Consortium is sponsoring a series of events this spring to help junior scientists learn what they need to know to compete successfully for research funding. The Spring Grantsmanship and Funding Fest events include:
GRANT WRITING 101, Thursday, April 10, in The Scripps Research Institute's Keck Amphitheater, Beckman Center. This workshop will address topics such as finding grants, identifying online resources, targeting your search based on your research area, tips for writing grant sections, and common mistakes. No RSVP required.


CAREER DEVELOPMENT GRANTS FOR POSTDOCS AND JUNIOR FACULTY, Thursday, May 1, 1:30 PM, Scripps Research Keck Amphitheater, Beckman Center, La Jolla. Experienced faculty members and National Institutes of Health (NIH) administrators will highlight best practices for writing compelling K, R, and transition grants. A panel of speakers will also address the grant review process at 3:30 PM.


MOCK STUDY SECTIONS, Saturday, May 3, 9 AM, Scripps Research Keck Amphitheater, Beckman Center, La Jolla. Postdocs, graduate students, and junior faculty are invited to participate in mock study sections to review grant applications and have their own funding proposals reviewed by peers. Participants will gain first-hand knowledge of the grant review process by becoming active contributors in a mock review section. Mock study sections will be facilitated by NIH guest speakers and faculty experts. Advance registration and submission of a grant for review is required; visit the Postdoctoral Services website for more information and registration procedures.


SESSIONS ON SPECIFIC FUNDING ORGANIZATIONS. Speakers will describe funding mechanisms available from their institutions, types of research experience relevant for different grants, current funding priorities, and general grant writing tips. No RSVP required. Upcoming talks will focus on:
- American Heart Association, Thursday, April 3, 2 PM, Burnham Institute's Fishman Auditorium.

- National Cancer Institute, NIH, Tuesday, April 15, 11 AM, University of California at San Diego, CMG large conference room.

- National Institute of Allergy and Infectious Diseases, NIH, Thursday, April 17, 2 PM Scripps Research, Keck Amphitheater, Beckman Center.
The San Diego Postdoc Training Consortium is made possible by participation from Scripps Research and its Society of Fellows, Burnham Institute for Medical Research, University of California, San Diego, and Salk Institute for Biological Studies. For more information
about the Spring Grantsmanship and Funding Fest, contact Ryan Wheeler at rwheeler@scripps.edu or see the Postdoctoral Services website.

Library Tip: NIH Public Access Policy for Journal Articles
Starting in less than a month, on April 7, 2008, scientists receiving grant money from the NIH must submit copies of their articles that are accepted for publication to PubMed Central. The papers in PubMed Central will be freely available to the public no later than 12 months after publication.
Also, starting May 25, 2008, all NIH applications, proposals, and progress reports must include the PubMed Central reference number when citing an article that falls under the policy.
Check out the NIH Public Access Policy page, which details how to comply. For more information, contact the Kresge Library Help Desk, x4-8705 or helplib@scripps.edu.

New English-as-a-Second-Language Classes to Begin
A new series of English-as-a-second-language classes will begin Tuesday, March 25. The class meets from 6:30 to 8:30 PM every Tuesday in the Immunology building west conference room, La Jolla campus. The price for three months (12 classes) is $60.
Each intermediate-level English class is divided into speaking and listening, idioms and vocabulary, and reading and writing. If you would like to improve your English communication skills, as well as understand your friends and colleagues, movies, television shows, and the news, this class is for you. The teacher uses movies, games, television shows, grammar books, songs, drawing and novels to teach standard American English. Have fun and learn English at the same time! For more information, please leave a message at x4-2176.

Upcoming Onsite Clinics
On Monday, March 31, Wednesday, April 2, and Friday, April 4, personnel from Sharp Rees-Stealy Medical Group will be on-site to conduct TB screenings, hepatitis B immunizations, serum draws, and tetanus immunizations.
The clinics will be conducted in the 3366 Building, in Room 325, on the third floor, from 11 AM to 2 PM on Monday, Wednesday, and Friday.
No appointments are necessary. TB screening requires a 48 to 72 hour follow-up. Individuals receiving the TB screen on Monday will need to return on Wednesday, and individuals screened on Wednesday, will need to return on Friday. Initiation of the TB screening process will not be available on Friday, but hepatitis B immunization, serum draws, and tetanus immunizations will be. To learn more about these programs, see the Environmental Health & Safety Occupational Medicine web page.
Send comments to: mikaono[at]scripps.edu