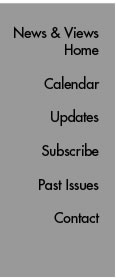 Snapshot:
Olivier Harismendy
Position: Research associate in the Scripps Genomic Medicine lab, which is part of both The Scripps Research Institute and Scripps Health.
Projects: Working closely with investigator Kelly Frazer on three projects:
• Testing of three commercial sequencers, which represent the "next generation" of high-throughput sequencing. The team aims to find out how much DNA these instruments can sequence, how well they detect genetic variants (called single nucleotide polymorphisms or SNPs), and which sample preparation techniques improve performance. The scientists are comparing results to the Sanger sequencing technique, the "gold standard" for this type of information.
• Investigating the association between genetic variants and heart disease. The team will look at samples donated by Scripps Health patients to see if the scientists can identify new DNA variants correlated with coronary artery disease. "We are hoping to find new markers," says Harismendy. "Any variations we identify will also hopefully lead to the discovery of new targets for drug development."
• Working in a collaboration with pharmaceutical company Aventis to investigate similar links between genetic variants and morbid obesity.
Thoughts on the Research: "It's a great opportunity and a very exciting field. Also, being close to the clinical side—to seeing the potential of my research to affect patients—is important to me. We are working toward an era of 'personalized medicine,' in which a physician can say, 'This is your genome, so we know this small-molecule drug will not work for you, but this one will, and here is the best dose for you.'"
Started at Scripps Research: 2005, in the Department of Neurobiology, working with Assistant Professor Robyn Meech on a method to identify Neuron Restrictive Silencing Factor (NRSF) binding sites in developing mouse embryos, by cloning, tagging, and sequencing (ChIP-Seq).
Background: Grew up in Toulon, France, in the area known as the French Riviera. Studied for his master's degree at the Pasteur Institute and for his doctorate at the Commissariat à l'Énergie Atomique (CEA), a center for physics and biology, before arriving at Scripps Research's California campus.
Other Professional Activities: President of the Society of Fellows (SoF). "I'm excited to have this opportunity to make a difference in the postdoctoral community," Harismendy says. Elected last November, he hopes to improve communication and outreach for the society. So far, this effort has included a redesigned SoF website, close coordination with the Office of Postdoctoral Services, and continuation of a number of successful programs, including the Distinguished Lecturer Series, tuition reimbursement for postdocs, an SoF newsletter, and the annual vendor show. In addition, the SoF is hosting a regular Happy Hour on the third Friday of every month behind the Immunology Building, where some 100 people have been gathering to enjoy socializing, wine, beer, and snacks.
Hobbies: Sailing, including competition in several annual regattas along the coast. "Sailing is my breath. I can work six days a week, 10 hours a day, as long as I can sail. San Diego's weather is wonderful for this."
Send comments to: mikaono[at]scripps.edu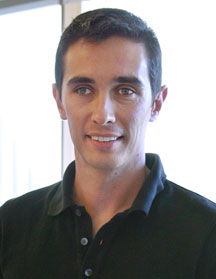 Research Associate Olivier Harismendy is excited about the potential of his projects to help patients through the development of personalized medicine. Photo by Kevin Fung.