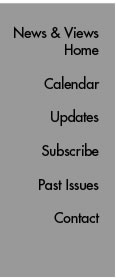 Etcetera

Albert Eschenmoser Wins Benjamin Franklin Medal
Scripps Research Institute Professor Albert Eschenmoser has won the Benjamin Franklin Medal in Chemistry. Franklin Institute Awards are given for outstanding achievements that have enhanced the quality of human life and deepened our understanding of the universe; Eschenmoser is being recognized for his research on nucleic acid structure, leading to the understanding of why RNA and DNA have the structure they do.
Past recipients of the Franklin Awards, which date back to 1824, include Albert Einstein, Thomas Edison, Marie Curie, Stephen Hawking, Francis Crick, Jacques Cousteau, and Jane Goodall.
The 2008 awards will be presented on the evening of Thursday, April 17, as part of a week of activities celebrating science and the spirit of discovery. Eschenmoser will speak at a symposium in his honor, "Organic and Bioorganic Chemistry: Challengers—Past, Present, and Future," to be held on Wednesday, April 16, at the University of Pennsylvania, Chemistry Laboratories. Other speakers will include Professor Scott Denmark of the University of Illinois at Urbana-Champaign, Professor Reza Ghadiri of Scripps Research, and Professor Erik Sorensen of Princeton University.
Send comments to: mikaono[at]scripps.edu

Richard Lerner Receives Builders of Science Award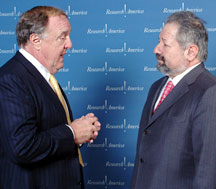 Richard A. Lerner (left), president of The Scripps Research Institute, chats with Dennis A. Ausiello, physician-in-chief of Massachusetts General Hospital at Research!America's 12th Annual Advocacy Awards Gala on March 18. Lerner was honored with a Builders of Science Award, which celebrates outstanding advocates of medical, health, and scientific research. Photo by Mike Gatty.