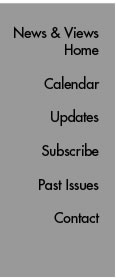 Etcetera

Ian Wilson Honored Three Times
Scripps Research Professor Ian Wilson has been showered with honors recently. They include:
An honorary degree from the University of St. Andrews in recognition of "personal and professional achievements as a national and international scientist at the forefront of research to understand the immune system and influenza." The honorary Doctor of Science degree was conferred as part of the university's November 30, 2007 graduation ceremonies.


Election as a Corresponding Fellow of the Royal Society of Edinburgh, Scotland's National Academy of Science and Letters. In joining the society, which was established in 1783 under a charter granted by George II for the "advancement of learning and useful knowledge," Wilson follows in the footsteps of distinguished predecessors including Sir Walter Scott, Charles Darwin, and Albert Einstein.


Election to the Board of Directors of the Keystone Symposia, a nonprofit organization based in Silverthorne, Colorado, that acts as a catalyst for the advancement of biomedical and life sciences by connecting scientists within and across disciplines at conferences and workshops. Wilson's term extends until June 30, 2011.

Three Barbas Papers Make "Most-Cited" List
Three papers by Professor Carlos Barbas and colleagues have made the Journal of American Chemical Society's list of Most-Cited Articles. The articles were published in 2006 and cited through the period ending December 31, 2007.
They are:
The Most-Cited Articles are based on data from Thomson Web of Science® and are featured on the ACS Publications website.
Send comments to: mikaono[at]scripps.edu

Arizona High School Students Visit Scripps California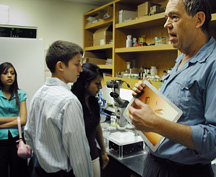 Associate Professor David Stout explains x-ray crystallography to a group of high school students from Tolleson, Arizona. For many of the students, this was their first visit to a working lab. Photo by Kevin Fung.