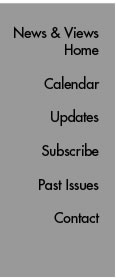 In Brief

Phil Baran to Speak in Faculty Lecture Series
Chemistry Associate Professor Phil Baran will speak on "The Catalytic Cycle of Discovery in Total Synthesis" as part of the Faculty Lecture Series on Wednesday, March 12, at 5 PM. The lecture will be held in the Timkin Amphitheater, Green Hospital, La Jolla. A reception will follow in the Immunology Building galleria.

Road Construction Update
During the month of March 2008, the City of San Diego road improvement project on Genesee Avenue will:
Continue with the maintenance sediment erosion control measures
Continue grading for curb, gutter, sidewalk, and subgrade street section
Replace irrigation system at Scripps Hospital Drive
Relocate the path at Scripps Hospital Drive
Pour concrete for the sidewalks at Genesee Avenue
Landscape areas along Genesee Avenue
Prepare street section subgrade of Genesee Avenue and Scripps Hospital Drive
At the end of March, reconfigure traffic control and detour for Phase 2 work on the north side of Genesee Avenue
The goal of the project, which is scheduled to last until August 2008, is to improve traffic flow and alleviate traffic congestion along Genesee Avenue. For more information, visit www.sandiego.gov/engineering-cip/projectsprograms/genesee.shtml. If you have questions or would like to receive monthly email updates, call the project hotline at (619) 533-7539 or contact Matthew Lea at MatthewL@CollaborativeServices.biz.

Dish Up Some Art at the 3300 Cafeteria
The Postdoctoral Services Office and the Society of Fellows are pleased to announce the continuation of employee-created artwork displays on the walls of the Scripps Research cafeteria at 3300 North Torrey Pines Court, La Jolla, CA. If you are interested in showing pieces that you have painted, photographed, sketched, etched, or otherwise created, please email Ryan Wheeler, rwheeler@scripps.edu with your name, a description of your art (medium, approximate size, etc.), and title of the piece(s). Space is limited to roughly 10 exhibitors. Art will be shown until summer, after which time new pieces may be rotated in.
Send comments to: mikaono[at]scripps.edu