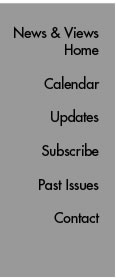 In Brief

Nobel Laureate Joseph Goldstein to Speak in Distinguished Lecturer Series
Nobel laureate Joseph Goldstein, chair of the Department of Molecular Genetics at the University of Texas Health Science Center, will speak as part of the Society of Fellows' Distinguished Lecturer Series at 11 AM on Friday, February 29, in the Neurosciences Institute auditorium. No RSVP required.

Library Tip: New Interface for Ovid Medline
The new Ovid interface, OvidSP was released earlier this month. You'll find a new look and new features, including multiple search modes from beginning to advanced:
Use the new Natural Language search method to phrase a complete question and receive articles ranked by the frequency and relevancy of your search terms.
Add notes to records that are saved for future use by creating a personal account.
Use the improved Results Manager to export records to email, print, or EndNote or Reference Manager.
Search across multiple databases (Medline, Agricola & PsycInfo) and remove duplicate records for a comprehensive and convenient search.
Take advantage of guided MeSH subject heading searches in Medline, which are still available with the Advanced Ovid Search feature.
Download a users guide from Ovid or get tips on using the new natural language process of Basic Search.
For questions on the new OvidSP interface or for assistance, contact Kresge Library staff at x4-8705 or email helplib@scripps.edu.

Upcoming Onsite Clinics
On Monday, February 25, Wednesday, February 27, and Friday, February 29, personnel from Sharp Rees-Stealy Medical Group will be on-site to conduct TB screenings, hepatitis B immunizations, serum draws, and tetanus immunizations.
The clinics will be conducted in the 3366 Building, in Room 325, on the third floor, from 11 AM to 2 PM on Monday, Wednesday, and Friday.
No appointments are necessary. TB screening requires a 48 to 72 hour follow-up. Individuals receiving the TB screen on Monday will need to return on Wednesday, and individuals screened on Wednesday, will need to return on Friday. Initiation of the TB screening process will not be available on Friday, but hepatitis B immunization, serum draws, and tetanus immunizations will be. To learn more about these programs, see the Environmental Health & Safety Occupational Medicine web page.
Send comments to: mikaono[at]scripps.edu