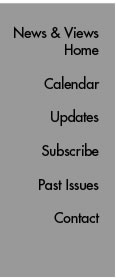 In Brief

Charles Surh To Speak in Faculty Lecture Series
Immunology Associate Professor Charles Surh will speak on "Regulation of T Cell Homeostasis and Responses to Commensal Antigens" as part of the Faculty Lecture Series on Wednesday, February 13, at 5 PM. The lecture will be held in the Timkin Amphitheater, Green Hospital, La Jolla. A reception will follow in the Immunology Building galleria.

Lunch & Learn: "Self Sabotage and Perfectionism at Work"
Jill Badonsky, founder of The Muse Is In and author of several books including The Nine Modern Day Muses and A Bodyguard, will speak on "Self Sabotage and Perfectionism at Work" on Thursday, February 21, as part of the ongoing Lunch & Learn seminar series. Topics will include: how you may be sabotaging yourself without knowing it; four simple ways to undo self sabotage; what drives the dynamic of perfectionism and how it prevents our happiness; four ways to honor your perfectionism but to defy its immobilizing and tormenting nature; how to celebrate yourself the way you are now. The workshop, arranged by the Office of Counseling and Psychological Services, will be held in the W.M. Keck Amphitheater, Beckman Center, La Jolla, California, from noon to 1 PM.

Library Tip: New Interface and Features for Web of Science
On Monday, February 4, the Web of Science will introduce a new look and new features for searching the Science Citation Index database. The biggest change is a prominent Refine Results box on the left-hand side where you can limit your searches by specific subject, year, author, language, and more. Exporting options appear above the records. The Analyze Results feature allows you to compare up to 100,000 records by author, year, institution, and journal. See who has published the most papers in your field or which institutions publish in your area
The Kresge Library has developed short, three to five minute tutorials to introduce you to the new interface. These can be found on the library's Training and Guides page for Web of Science.
If you have questions or comments, or need assistance, please contact the Kresge Library at x4-8705 or helplib@scripps.edu.
Send comments to: mikaono[at]scripps.edu