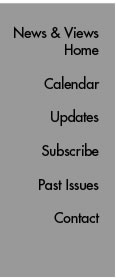 Snapshot:
Hao Jiang
Position: Research associate in the Scripps Research Institute laboratory of Professor Peter Vogt.
Started at Scripps Research: October 2003.
Background: Jiang grew up in Sichuan Province, China, where he was fascinated by living creatures—insects, frogs, turtles—from an early age. He attended Sichuan University for undergraduate studies in microbiology, then University of California, Davis, for his Ph.D. work in plant virology. Wanting to make the transition to a topic more related to human health, he chose to work with Scripps Research Professor Peter Vogt—a renowned oncovirologist and a pioneer in the field of cancer research—for his postdoctoral work.
Projects: Jiang is currently completing two projects in the Vogt lab. One examines a small GTPase called Rheb, which is a key component in the PI3K/Akt/TOR signaling pathway, to investigate its oncogenic capability and mechanism in vertebrate cells, and to explore its potential as a promising therapeutic target for certain cancers. The second project explores a strategy of inhibiting the function of Myc—a protooncogene overexpressed in a wide range of human cancers, by stabilizing the homodimer formed by its binding partner Max. These papers will be Jiang's ninth and tenth publications.
What He Likes Most About Scripps Research: "The collaborations! There are so many opportunities to work with experts in other fields, such as chemistry and mass spectrometry. I love the environment here and the opportunity to learn new things."
Hidden Talents: Photography and graphic design. Jiang has focused his photography on landscapes and oceanscapes. "I love shooting rocks, birds, and the ocean at sunset, when colorful clouds make the lighting incredibly beautiful. Different combinations of these elements at different time can give very different mood to the picture!" He has also designed websites, catalogs, and logos for groups including the Society of Chinese Bioscientists in America, Kenson Ventures, Genetastix Corporation, SuperArray Bioscience Corporation, and others.
Hobbies: Skiing, badminton, inline skating, music, movies, and "eating good food"—happily sampling a spectrum of cuisine from Ethiopian to Italian.
Send comments to: mikaono[at]scripps.edu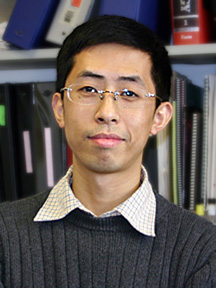 "I love the environment [at Scripps Research] and the opportunity to learn new things," says Research Associate Hao Jiang.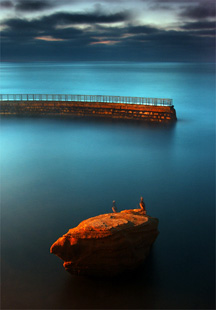 Outside of the lab, Jiang enjoys taking photographs, like this moody shot of La Jolla Cove.