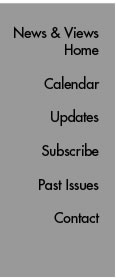 In Brief

Renowned Immunologist Richard Ulevitch Retires as Department Chair
The Scripps Research Institute has announced the retirement of Professor Richard Ulevitch, chair of the Department of Immunology and an internationally renowned researcher in the field of innate immunity.
Ulevitch, who joined the institute in 1972, will continue to maintain a laboratory at Scripps Research as professor and chair emeritus while joining 5AM Ventures of Menlo Park, California, a venture capital company that makes seed and early-stage investments in next-generation life science companies.
"It's with both regret and pleasure that I announce our friend and colleague's retirement as chair of the Department of Immunology," said Scripps Research President Richard A. Lerner. "The regret comes from the realization that Richard will no longer be providing his wise guidance to the department he has helped to build into one of the most productive within the institute, duly recognized for its significant research in the field of immunology worldwide. The pleasure comes from knowing that he will continue to contribute further important research to our understanding of the innate immune system, both at the Institute and in his new role in the private sector."
"During the past three decades at the institute, it has been a privilege to work with each and every one of the faculty as a colleague and as chair of the Department of Immunology," Ulevitch said. "In total, my years at Scripps Research represent one of the greatest experiences of my professional life. I will surely miss the opportunities and relationships it has provided."
Lerner said an international search will be conducted to find a new chair of the Immunology Department. In the interim, Professor Argyrios Theofilopoulos will serve as acting chair.

Benefits Seminar: Market Update from Fidelity
Benefits Administration is pleased to present Gregory Weise, vice president and regional planning consultant from Fidelity Investments who will be providing a Fidelity Quarterly Market Update on Tuesday, January 22, from noon to 1 PM in the Human Resources Training Room, 3377 N. Torrey Pines Court, Room 205. In this update, you will learn what drives changes in bond-market interest rates, the factors affecting the performance of domestic and international equity markets, and the driving forces behind U.S. economic growth. Join this presentation and increase your financial knowledge.

Find Your Groove with Zumba Exercise Classes
Classes in Zumba (the latest dance/aerobic routine) are now being offered on the La Jolla campus every Thursday from noon to 12:45 PM in front of the gym at 10350 Torrey Pines Court (next door to the Research Computing and HR building). Zumba routines feature aerobic/fitness interval training that combines fast and slow movements to tone and sculpt the body, all to the beat of Latin and international music. Classes include a five-minute warm up, 30 minutes of Zumba, five minutes of abdominal work, and five minutes of stretching.
Classes are $5 each or you can buy a package of 10 for $45. Class credits are good towards Zumba or Pilates (offered in the same location on Mondays and Wednesdays, noon to 12:45).
All levels of experience are welcome. Bring comfortable clothes, a bottle of water, and a towel or yoga mat (for Pilates). For more information, contact Beth Peterka of Research Computing, who is a certified instructor in Pilates, strength training, spin, and Zumba, at x4-9362 or bpeterka@scripps.edu.

Upcoming Onsite Clinics
On Monday, January 21, Wednesday, January 23, and Friday, January 25, personnel from Sharp Rees-Stealy Medical Group will be on-site to conduct TB screenings, hepatitis B immunizations, serum draws, and tetanus immunizations.
The clinics will be conducted in the 3366 Building, in Room 325, on the third floor, from 11 AM to 2 PM on Monday, Wednesday, and Friday.
No appointments are necessary. TB screening requires a 48 to 72 hour follow-up. Individuals receiving the TB screen on Monday will need to return on Wednesday, and individuals screened on Wednesday, will need to return on Friday. Initiation of the TB screening process will not be available on Friday, but hepatitis B immunization, serum draws, and tetanus immunizations will be. To learn more about these programs, see the Environmental Health & Safety Occupational Medicine web page.
Send comments to: mikaono[at]scripps.edu

Green Car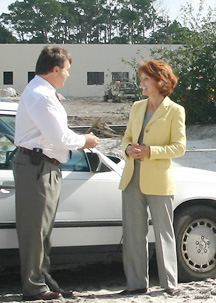 Fred Barch of the Palm Beach County School District accepts the donation of a car from Dr. Nicky Lerner, wife of the Scripps Research president, in front of the elementary school under construction at the Pine Jog Nature Center in West Palm Beach. Students at Park Vista Community High School in Boynton Beach will convert the vehicle to run on recycled, filtered vegetable oil. Photo by Deborah Bowen.