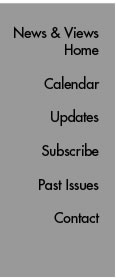 Pun and Games with Richard Lederer
By Mika Ono
Word master Richard Lederer, former host of public radio show "A Way with Words" and author of more than 30 books on language, history, and humor, shared his exuberance about the English language on the California campus of The Scripps Research Institute last Thursday.
Attending the event, part of the ongoing Lunch & Learn seminar series for employees and also hosted by Scripps Outstanding Speakers Toastmasters, were more than 100 Scripps Research scientists and staff members, as well as Toastmasters participants from across campus and the San Diego region.
"English is one of the growth industries in the U.S.," said Lederer, a larger-than-life personality who playfully describes himself as the "Wizard of Idiom," "Attila the Pun" and "Conan the Grammarian." "Fifty-one and a half percent of all English speakers speak it as a second language—and that is the faster growing increment."
There are more English speakers in China than the United States, he pointed out. Moreover, half of all books are published in English; 60 percent of all radio programs are broadcast in English; and 80 percent of all computer text is in English.
This is a useful language to know and know well.
Luckily, given its world domination, English is one of the most "democratic and hospitable languages that ever existed," according to Lederer. The million or so words in the English vocabulary originate from more than 300 other languages, most prominently Latin, Greek, French, and Anglo-Saxon.
English is also constantly shifting and growing to meet the changing needs of the times. Recent additions to the dictionary include "sudoku" (the number puzzle popularized in Japan), "speed dating" (a formalized matchmaking process credited to Rabbi Yaacov Deyo that facilitates meeting a large number of new people in a short amount of time) and "my bad" (an admission of fault whose usage originated in the African-American community).
Usage and Abusage
In addition to regaling the audience with puns, spoonerism, bloopers, anecdotes, speaking tips, and witty repartee, Lederer took questions about correct English usage and added a few notes of his own. According to Lederer, correct English usage is like appropriate clothing—if you don't get it right, it detracts from your message.
Specific tips included:
The difference between "lay" and "lie." Commonly confused, "lay" means "to put" and requires an object, as in the sentence "I lay the book on the lectern"; "lie" means "to repose" and is intransitive, as in "The book lies on the lectern."


The word "hopefully." While the word is often disparaged, Lederer sees nothing wrong with it. Lederer describes "hopefully" as a conjunctive adverb modifying a whole sentence, similar to words such as "fortunately," "luckily," and "first," "second," and "third."


The phrase "I could care less." The phrase should be "I couldn't care less."


The use of the double negatives. While negatives are inherently unstable in English, Lederer stated that double negatives such as, "this is not unimportant," are O.K. if finely crafted.


The use of "a" versus "an." Lederer noted that "an" is used before a vowel sound, not necessarily an actual vowel. Examples of correct usage are: "a unit of measurement" and "a European" (because the initial vowel is making a "y" sound) and "an hour" and "an heir" (because the "h" is silent).


The use of "data is" versus "data are." The plural is more correct, according to Lederer, although he pointed out that a case could be made for using the singular; "Really, how often do you talk about a datum?"


The word "very." It can be useful, but is overused, according to Lederer, who noted that "It was cold" is colder than "It was very cold."


Misplaced modifiers. Lederer had fun with these. In "He only died yesterday" Lederer wondered what could possibly have happened to the man that was worse than death. Correctly placing the modifier, as in "He died only yesterday," appropriately puts the emphasis on the recency of the event.


Redundancies. These include "please RSVP," "in close proximity," "PIN number," and "ATM machine."


The phrase "got to." Although the British frown on this usage, Lederer says "to get" is an established part of the American idiom, as in the film title, "She's Got to Have It."
He also shared his three rules of correction. Correct only if: 1) you are right, 2) it will make a difference, and 3) you can do it in private.
"A Memorable Experience"
The word master stayed after his talk to sign copies of his books, including his bestselling Anguished English: An Anthology of Accidental Assaults Upon the English Language (Wyrick) and his most recent work, Presidential Trivia: The Feats, Fates, Families, Foibles, and Firsts of Our American Presidents (Gibbs Smith).
While some left with books, almost all left with a smile on their lips.
"I received a number of emails from people saying they really enjoyed the talk and appreciated how it made them think about language in a new way," said Administrative Assistant Holly Wheeler, who arranges Lunch & Learn events for the Office of Counseling and Postdoctoral Services. "We may have Dr. Lederer back again next year to give us his insights on the topic of presidential trivia."
Kathy Sterling, a senior administrative assistant in the Reed lab who is active in Toastmasters (a group that aims to practice and hone better communication and leadership skills, which in turn foster self-confidence and personal growth), added, "Dr. Lederer's presentation was entertaining and educational! The Toastmasters in the audience enjoyed watching a true professional speaker in action. It was a memorable experience for us all."
The talk represented the second time the Office of Counseling and Psychological Services has collaborated with Toastmasters to host a speaker. If you are an employee who missed this or other lectures in the Lunch & Learn series, you can borrow a recording from the Office of Counseling and Psychological Services Resource Center, which also includes books and videos on a variety of topics.
The next Lunch & Learn workshop, scheduled for Thursday, February 21, 2008, will feature a talk entitled "Self Sabotage and Perfectionism at Work" presented by Jill Badonsky, author of The Nine Modern Day Muses and ABodyguard. For more information on the Office of Counseling and Psychological Services and its Lunch & Learn series, see the Office of Counseling and Psychological Services website or contact Wheeler, at hollyw@scripps.edu or x4-7297. For more information on the Scripps Outstanding Speakers (SOS) group, visit the SOS website.
Send comments to: mikaono[at]scripps.edu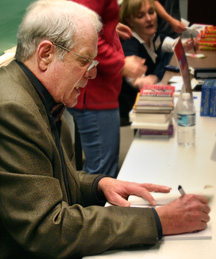 Word master Richard Lederer was on the Scripps Research campus to talk about the language he loves—English.