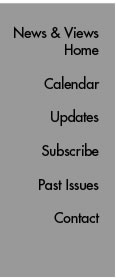 Etcetera

Sheng Ding, Kristin Baldwin Win CIRM New Faculty Awards
Associate Professor Sheng Ding and Assistant Professor Kristin Baldwin of The Scripps Research Institute have won California Institute for Regenerative Medicine (CIRM) New Faculty Awards. The awards for early career scientists are designed to encourage and foster the next generation of clinical and scientific leaders in stem cell research. The New Faculty Awards provide salary and research support for up to five years to create a stable environment for new faculty members to build innovative and robust stem cell research programs in the state of California.
In his lab, Ding is applying arrayed large-scale chemical, cDNA, and siRNA libraries and novel high throughput cellular screens to identify and characterize small molecules and genes that can control stem cell fate in various embryonic and adult stem cell systems. He is also investigating the modulation of specific signaling pathways in development and regeneration.
The Baldwin lab is taking two innovative approaches to generate pluripotent cell lines from neurons. Lab members are using cloning by somatic cell nuclear transfer to generate embryonic stem cell lines and mice from the nuclei of individual neurons. They are also trying to generate cell lines from neurons by developing novel methods. They will use these lines to examine the role of irreversible chromosomal changes in neuronal development and disease. Their work will have important implications for generating appropriate in vitro models for neurological disease and for cell replacement therapy.

Gurudutt Pendyala Awarded Fellowship for ALS Research
Gurudutt Pendyala, a research associate in the Fox lab, has been awarded The Milton Safenowitz Post-Doctoral Fellowship for ALS Research from the ALS Association. The goal of the fellowship is to fund fellows engaged in innovative projects to accelerate research on Amyotrophic Lateral Sclerosis (commonly known as ALS or Lou Gehrig's disease). Pendyala's project builds on prior success with HIV biomarkers to shed light on ALS. He plans to use mass spectroscopy to uncover metabolic products in cerebrospinal fluid changing specifically with ALS that could reflect altered physiology. A reliable and reproducible set of metabolic biomarkers would allow faster diagnosis, streamlined clinical trials, and a window into the disease process that could provide therapeutic targets.

Nico Mitro Receives Career Development Grant
Nico Mitro, a postdoc in the Saez lab, has won a prestigious career development grant from The Giovanni Armenise-Harvard Foundation. The award provides Mitro with five years of support to launch an independent research program in Italy.

Juan Blanco Canosa Wins Marie Curie Actions Fellowship
Juan Bautista Blanco Canosa, a research associate in the Dawson lab, has been awarded a three-year Marie Curie Actions International Outgoing Fellowship from the European Commission. This award funds a two-year fellowship abroad, followed by a third year of support to Universidad de Santiago de Compostela. Blanco Canosa's project is titled "New strategies for bioconjugation to quantum dots: Study of protein-nucleic acids and protein-protein interactions using fluorescence resonance energy transfer through quantum-dot-protein conjugates."
Send comments to: mikaono[at]scripps.edu


Scripps Florida Reaches for the Sky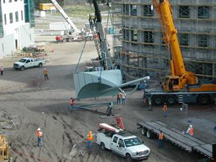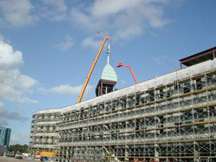 Workers carefully raise the 20,000-pound spinnaker, based on the shape of the DNA double helix, to the roof of the Advanced Technologies and Administration Building at Scripps Florida, Jupiter. The spinnaker, made of galvanized steel, is 50 feet high and will serve as a landmark for the surrounding area.