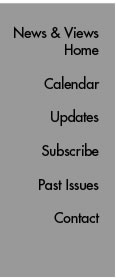 In Brief

Save the Date: 2008 Perspectives in Immunology Symposium
The 2008 Perspectives in Immunology Symposium has been scheduled for Monday, May 12, 2008, in the Timken Amphitheater, Green Hospital, in La Jolla, California. The program features the following confirmed speakers and tentative lecture titles:
Daniel C. Douek, chief, Human Immunology Laboratory, Vaccine Research Center, National Institutes of Health (NIH), "HIV Infection and Microbial Translocation"

Daniel L Kastner, clinical director, NIAMS Intramural Research Program, Genetics and Genomics Branch, NIH, "The Biology of CATERPILLARS and their Relevance to Immunology and Hereditary Immunologic Disorders"

Vijay K. Kuchroo, professor of neurology, Center for Neurologic Diseases, Brigham and Women's Hospital, "TH17 Cells in Immunity and Autoimmunity"

Tadatsugu Taniguchi, professor and chair, Department of Immunology, director, Center for Disease Biology and Integrative Medicine, Graduate School of Medicine and Faculty of Medicine, University of Tokyo, "Interferons and DNA Sensors"

Laurence Zitvogel, professor and research director, U805 INSERM, chief, Center of Clinical Investigations CBT507, Institut Gustave Roussey, "Innate Tumor Immunity"
The program, which is open to the scientific community, is free and no RSVP is required. For more information, contact, Kat Occhipinti, at occhip@scripps.edu.

Upcoming Onsite Clinics
On Monday, December 17, Wednesday, December 19, and Friday, December 21, personnel from Sharp Rees-Stealy Medical Group will be onsite to conduct TB screenings, hepatitis B immunizations, serum draws, and tetanus immunizations.
The clinics will be conducted in the 3366 Building, in Room 325, on the third floor, from 11 AM to 2 PM on Monday, Wednesday, and Friday.
No appointments are necessary. TB screening requires a 48 to 72 hour follow-up. Individuals receiving the TB screen on Monday will need to return on Wednesday, and individuals screened on Wednesday, will need to return on Friday. Initiation of the TB screening process will not be available on Friday, but hepatitis B immunization, serum draws, and tetanus immunizations will be. To learn more about these programs, see the Environmental Health & Safety Occupational Medicine web page.
Send comments to: mikaono[at]scripps.edu