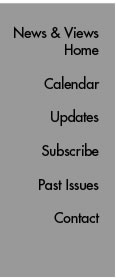 Etcetera

Richard Lerner Wins Builders of Science Award
Richard A. Lerner, president of The Scripps Research Institute, has won the Research!America's 2008 Builders of Science Award. Research!America's award program honors outstanding advocates for medical, health, and scientific research whose leadership efforts have been notably effective in advancing the nation's commitment to research. The organization cited Lerner's leadership of Scripps Research since 1986, the opening of the institute's Florida campus in 2004, and his expertise in diverse areas of research, including the field of catalytic antibodies and the discovery of ozone as a metabolic product of inflammation. (For more information on Lerner, visit http://www.scripps.edu/research/faculty.php?rec_id=1164.)
The Builders of Science award will be presented at the Research!America's 12th Annual Advocacy Awards Gala on March 18, 2008, at the Andrew W. Mellon Auditorium in Washington, DC. Others to receive awards include U.S Senator Edward M. Kennedy; California Governor Arnold Schwarzenegger; amfAR, The Foundation for AIDS Research; William H. Foege, senior fellow of the Bill & Melinda Gates Foundation; and Pat Furlong, founding president and chief executive officer of Parent Project Muscular Dystrophy.

Jessica Raushel and Benjamin Pratt Awarded Eli Lilly Fellowships
Jessica Raushel and Benjamin Pratt, Ph.D. candidates at The Kellogg School of Science and Technology, have been selected to receive Eli Lilly and Company Foundation fellowships for the 2008 calendar year. The fellowships recognize outstanding senior graduate students in the areas of chemical synthesis and chemical biology. As fellows, Raushel and Pratt will be invited to present a poster at the 13th Biennial Eli Lilly Grantee Symposium in March 2008 in Indianapolis.
Send comments to: mikaono[at]scripps.edu