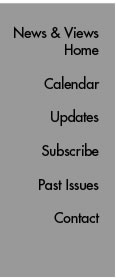 In Brief

Lunch & Learn to Host Richard Lederer of "A Way with Words"
Author, verbivore emeritus, and host of NPR-KPBS "A Way with Words" Richard Lederer will share his two most recent books, Presidential Trivia: the Feats, Fates, Families, Foibles, and Firsts of Our American Presidents and Word Wizard: Super Bloopers, Rich Reflections, and Other Acts of Word Magic, on Thursday, December 6 at noon as part of the ongoing employee Lunch & Learn seminar series. The event will be held in the Keck Amphitheater of the Beckman Building on the La Jolla, California campus. No RSVP required.

Library Tip: EndNote X1 Update
EndNote X1 for Mac or PC is available for download from the Kresge Library Software Downloads page [http://www.scripps.edu/library/Endnote.html]. EndNote X1 is compatible with Windows 2000, XP, and Vista, and with Mac OS 10.3.9 (Panther), 10.4.x (Tiger), and with 10.5 (Leopard).
Features of this version include ways to:
Group references into subject folders,
Cite While You Write with Microsoft Word 2000, XP, 2003, and 2007 (Windows), and Word X, 2004 (Mac),
Quick search on the EndNote toolbar,
View all author names in the library list,
Use with EndNote Web, a Web companion available via ISI Web of Knowledge.
Mandatory Update for Endnote XI Windows Users:
An update and a fix need to be downloaded for version XI if you are running Windows. To run the update after installing EndNote X1, go to the Help menu in EndNote and choose EndNote Program Updates… Then download the fix file (zipped file) and unzip it. After unzipping, locate the file "libmysqld.dll" and move it to C:\Program Files\EndNote X1\, replacing the existing file.
EndNote information for Word 2007 users:
Word 2007 works best with EndNote X1. EndNote X will work with Word 2007, but the Endnote toolbar will be found in the "Add-ins" Tab.
Check out the Kresge Library's Endnote Guide page for more information. If you have questions or need assistance, please contact the Kresge Library, at x4-8705 or helplib@scripps.edu.

English-as-a-Second-Language Classes to Begin
A new session of English-as-a-Second-Language classes will begin Tuesday, December 4. This class, taught by instructor Cassandra Wadkins, will meet from 6:30 to 8:30 PM every Tuesday in the Immunology Building West Conference Room. The price for three months (12 classes) is $60. Each intermediate-level English class is divided into speaking and listening, idioms and vocabulary, and reading and writing. If you would like to improve your English communication skills and your understanding of friends and colleagues, movies, television shows, and the news, this class is for you. The instructor uses movies, games, television shows, grammar books, songs, drawing, and novels to teach standard American English. Have fun and learn English at the same time! For more information, leave a message at x4-2176.

Don't Miss the Holiday Craft Fair and Raffle Drawing
The winter Craft Fair and Raffle Drawing will be held on Thursday, December 6, from 11 AM to 1:30 PM in the Immunology Galleria and on the breezeway in front of the Immunology Building. Scripps Research employees will be exhibiting and selling their hand-crafted items, which include purses, scarves, jewelry, stamp decoupage, Jalapeno pepper jam, afghans, orchids and other plants, decorated glasses, pottery, wood crafts, Christmas ornaments, and photos and photo albums.
Send comments to: mikaono[at]scripps.edu