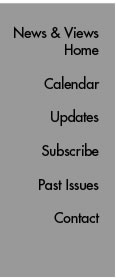 In Brief

ScrippsAssists Launches Holiday Food Drive
Employee volunteer group ScrippsAssists has launched a holiday drive for the San Diego Food Bank. Marked red bins are now available in locations across The Scripps Research Institute's La Jolla, California campus.
Most-needed items include:
Canned meat and tuna
Canned meals (chili, stew, ravioli, etc.)
Tomato products
Canned fruits and vegetables (especially corn and green beans)
Canned soups
Peanut butter
Dry cereal
Powdered milk
ScrippsAssist can only accept non-perishable items labeled with ingredients. The group cannot accept home canned or baked products, cans that are leaking or bulging, glass containers, and baby food in glass jars.
Monetary donations are welcome. Every dollar converts into 10 pounds of food and enables the group to distribute enough food for three meals. For more information, contact Taylor Cohen, taycoh@scripps.edu. Checks should be made out to the "San Diego Food Bank" and sent to Taylor at mail drop BCC169.

Donations to United Way/CHAD Support Local Communities
Over the next few days, Scripps Research employees have the chance to strengthen their local community. By giving $5, $10, $20 or more per pay period to the United Way/CHAD Campaign, employees can make a difference in someone's life. Donations to the United Way support a network of services that together serve entire families and neighborhoods, investing in children and youth, strengthening families, empowering seniors and the disabled, promoting health and wellness, and meeting emergency needs. Look to your e-mail or contact Human Resources, x4-8825, for more information on how to sign up.

Lunch & Learn to Host Richard Lederer of "A Way with Words"
Author, verbivore emeritus, and host of NPR-KPBS "A Way with Words" Richard Lederer will share his two most recent books, Presidential Trivia: the Feats, Fates, Families, Foibles, and Firsts of Our American Presidents and Word Wizard: Super Bloopers, Rich Reflections, and Other Acts of Word Magic, on Thursday, December 6 at noon as part of the ongoing employee Lunch & Learn seminar series. The event will be held in the Keck Amphitheater of the Beckman Building on the La Jolla, California campus. No RSVP required.

News&Views Pauses to Give Thanks
News&Views will not be publishing next week due to the Thanksgiving holiday. Regular publication will resume by Monday, December 3.
Send comments to: mikaono[at]scripps.edu