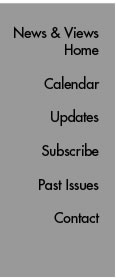 In Brief

Jerold Chun to Speak in Faculty Lecture Series
Scripps Research Professor Jerold Chun will speak on "Lysophospholipid Receptors in Body and Brain" as part of the ongoing Faculty Lecture Series on Wednesday, November 14. The lecture will be held at 5 PM in the Valerie Timken Amphitheater, Scripps Clinic, La Jolla.

Library Tip: Online Books Added on Stem Cells, Interferons, and More
The Kresge Library has added a number of new online books to its Wiley Interscience platform. To access, look up the individual titles in ELLeN, the library catalog. There are unlimited concurrent users.
Books of special note include Human Embryonic Stem Cells, which includes a chapter written by Scripps Research authors Sheng Ding and Julie Hsu Clark, and four new Novartis Foundation Symposium series titles, Acetaldehy De-Related Pathology, Tinkering: the Microevolution of Development, Decoding the Genomic Control of Immune Reactions, and Heart Failure: Molecules, Mechanisms, and Therapeutic Targets.
Other titles added include:
Art of Drug Synthesis
Autophagy in Immunity and Infection
Culture of Human Stem Cells
Enantioselective Organocatalysis
Immunogenomics and Human Disease
The Interferons
Mass Spectrometry of Protein Interactions
N-Heterocyclic Carbenes in Synthesis
For more information, contact the Kresge Library Help Desk, x4-8705 or helplib@scripps.edu.

San Diego Consortium Hosts Second Lab Management Course
The Scripps Research Institute, Burnham Institute for Medical Research, Salk Institute for Biological Studies, and the University of California, San Diego, are proud to host the Second San Diego Lab Management Course on Friday, February 1 and Saturday, February 2, 2008. This two-day course is designed to equip postdocs and junior faculty with the knowledge and professional competencies to lead innovative and productive research programs.
This year, the course is co-sponsored by the Burroughs Wellcome Fund and includes a special talk by Nobel laureate Bengt Samuelsson. In response to participants' comments and suggestions from last year's course, this year's program includes a session on "Finding an Academic Job." Please see the course website and a News & Views article on last year's course for more details. For additional information, contact Jennifer Oh at (858) 534-6632 or jmoh@ucsd.edu.
Registration is open in November and December 2007 to postdocs and junior faculty from the four sponsoring institutions. Spots are limited to 200 total registrants. The fee for the course is $85 for postdocs; $125 for junior faculty. This course is eligible for the Society of Fellows postdoc course reimbursement program (use the Fall/Winter 2007-2008 application and disregard the August 24 deadline on the course reimbursement page).

Postdoc Seminar: "Career Adventures Beyond the Bench"
A seminar "Career Adventures Beyond the Bench" on Thursday, November 15, will feature PhD panelists Jeffrey Kirsch, executive director of the Reuben H. Fleet Science Center, Aileen Chang, reference and electronic services librarian at Scripps Research, and Suzanne Clancy, science writer. Each panelist will give a general 15-minute introduction to his/her career, including job description, job opportunities in the field, necessary training and skills, salary range, and further resources. Questions and answer sessions and receptions will follow the presentations. All graduate students and postdocs are welcome to the event, which will be held from 2 to 3:30 PM in the Keck Amphitheater, Beckman Building. No RSVP is required. Refreshments will be provided.
Send comments to: mikaono[at]scripps.edu

ARCS Celebrates Donors, Scholars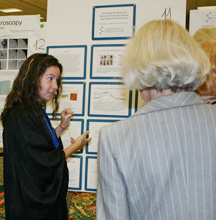 Scripps Research graduate student Amber Murray explained her work at a poster session that accompanied the annual Achievement Rewards for College Scientists (ARCS) luncheon November 6. The event brought together San Diego merit scholars in science and engineering and some of the donors who help fund them.