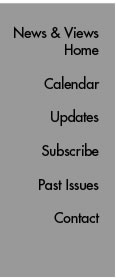 In Brief

Randy Schekman to Speak as Part of SOF Distinguished Lecturer Series
Randy Schekman, professor of Cell and Developmental Biology at the University of California, Berkeley, will speak on "Mechanism of Transport Vehicle Budding from the ER," on Friday, November 9, at 4 PM, as part of the Society of Fellows Distinguished Lecturer Series. The lecture will be held at the Neurosciences Auditorium, of the Neurosciences Institute, in La Jolla.

Jerold Chun to Speak in Faculty Lecture Series
Scripps Research Professor Jerold Chun will speak on "Lysophospholipid Receptors in Body and Brain" as part of the ongoing Faculty Lecture Series on Wednesday, November 14. The lecture will be held at 5 PM in the Valerie Timken Amphitheater, Scripps Clinic, La Jolla.

Emergency Tip: Reverse 911 Registration
Some San Diego County residents missed out on the reverse 911 emergency calls during the recent wildfires because they did not have a standard landline at home, relying instead on a cell phone or Voice over Internet Protocol (VoIP) service. Residents can register VoIP, cell phones, and email addresses with the County of San Diego to receive alerts during disasters. Go to the Alert San Diego website for more details.

Open Enrollment Ends November 7
Due to the severe fire conditions in San Diego County and recent campus closures, Benefits Administration has extended Open Enrollment until Wednesday, November 7, 2007 at 5 PM Pacific Time (8 PM, Eastern time).
Open Enrollment is the annual opportunity for participants in both California and Florida to make changes to their Scripps Research benefit selections and, if eligible, enroll (or re-enroll) in the Healthcare and/or Dependent Care Spending Accounts for the 2008 plan year. New plan information was mailed to participant homes and should have been received by September 24.
Some things to keep in mind during Open Enrollment:
Scripps Research has instituted a new HMO plan option through Aetna Value Network for California employees. This option will be offered in addition to the Comprehensive and Catastrophic PPO options already in place. The HMO plan features $15 copays for office visits, labs, and x-rays, with 100 percent coverage for surgery and other hospital services; you must choose a primary care physician or Aetna will designate one for you. Please note that Scripps Clinic is not in the HMO network. You can visit http://www.aetna.com to select a primary care physician by name, zip code, or medical group; use a 30-50 mile radius for the best results. Please be sure to disable any pop up blockers enabled on your Internet browser, as the search function will pop up in a new window.
The Comprehensive and Catastrophic PPO networks will be changing from First Health to Aetna Signature Administrators as of January 1, 2008, so if you opt for the PPO plan be sure to visit www.principal.com to see if your doctors are in the new network. Again, use a 30-50 mile radius for the best results, and disable any pop up blockers on your Internet browser as the search function will pop up in a new window.
Changes to the prescription benefits in all three medical plans for 2008 include a three-tier copay arrangement. Generic drugs will continue to be covered at the current $10 copay, while brand name formulary drugs will be covered at a $25 copay. A third tier will be added in 2008 that includes a $50 copay for brand name non-formulary drugs.
Kiosks are available in Human Resources for employees who DO NOT have computer access.
Please note if you participated in the Healthcare or Dependent Care Spending Accounts in 2007, you still must log on and elect a new deferral amount to participate in 2008. Your 2007 selection will not automatically be applied to 2008.
For a schedule of Open Enrollment events, go to http://www.scripps.edu/hr/benefits/calendaroe.html. Open Enrollment activities such as Question and Answer sessions and informational meetings that were cancelled will be rescheduled. Please watch your email for future announcements.
Participants with questions regarding Open Enrollment should contact Benefits, x4-8487 or benefits@scripps.edu. See also News&Views article, "HMO or PPO—You Decide." To participate in Open Enrollment, go to https://openenrollment.scripps.edu/employeeonline.

Lunch & Learn: "SuperFoods"
Steve Pratt, Scripps Memorial Hospital senior ophthalmologist, will speak on "SuperFoods," Tuesday, November 6 at noon, as part of the ongoing Lunch & Learn seminar series. Topics covered will include: ingredients of the worlds healthiest diets; the role of inflammation in the body and natural ways to control it; choices for preventing cardiovascular disease, cancer, degenerative eye disease, and cognitive decline in aging; the power of chocolate; and easy, delicious ways to incorporate SuperFoods into your daily life. The event will be held in the Keck Amphitheater of the Beckman Building. No RSVP required.
Pratt's book, SuperFoods Rx: Fourteen Foods That Will Change Your Life, is available for check out among many other resources available from the Counseling and Psychological Services office, 3366 N. Torrey Pines Court (Credit Union Building), Room 320.
Send comments to: mikaono[at]scripps.edu