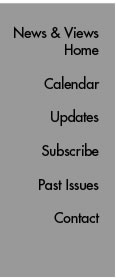 In Brief

Library Tip: Wildfire Web Portal
The National Library of Medicine has released a new resource focused on the health effects from wildfires. The California Wildfires web page is designed to help emergency responders, health care providers, public health workers, and the general public find authoritative and timely information about key health concerns from wildfires.
The site includes links to information on health effects from fires and smoke exposure, air quality resources, environmental clean-up, and animals in disasters. Information in Spanish is included, as are links to other federal government web sites, such as USA.gov, FEMA, and the Department of Health and Human Services. Searches of National Library of Medicine databases, such as MedlinePlus, PubMed, and TOXLINE, are also available.
For more information, contact the Kresge Library Help Desk, x4-8705 or helplib@scripps.edu.

Lunch & Learn: "SuperFoods"
Steve Pratt, Scripps Memorial Hospital senior ophthalmologist, will speak on "SuperFoods," Tuesday, November 6 at noon, as part of the ongoing Lunch & Learn seminar series. Topics covered will include: ingredients of the worlds healthiest diets; the role of inflammation in the body and natural ways to control it; choices for preventing cardiovascular disease, cancer, degenerative eye disease, and cognitive decline in aging; the power of chocolate; and easy, delicious ways to incorporate SuperFoods into your daily life. The event will be held in the Keck Amphitheater of the Beckman Building. No RSVP required.
Pratt's book, SuperFoods Rx: Fourteen Foods That Will Change Your Life, is available for check out among many other resources available from the Counseling and Psychological Services office, 3366 N. Torrey Pines Court (Credit Union Building), Room 320.

Postdoc Workshop: "Career Transitions"
Jan Hill, director of the Counseling & Psychological Services Department, and Ryan Wheeler, manager of the Postdoctoral Services Office, will present a three-session group workshop on career transitions on Wednesday, October 31, Wednesday, November 7, and Wednesday, November 14, from 3 to 4:30 PM. The sessions will offer a confidential small group environment for participants to address questions about continuing an academic career track, discern types of work that match their skills and personality, identify transferable skills developed as grad students and postdocs, and examine their values, priorities, alternatives, and goals to help guide their next career steps. Participants must RSVP and commit to all three sessions. Contact Ryan Wheeler, rwheeler@scripps.edu or x4-9740 to sign-up.
Send comments to: mikaono[at]scripps.edu