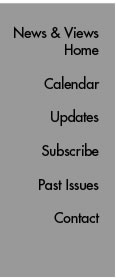 In Brief

Seminar: "Guidelines for Successful Postdoctoral Training at TSRI"
Sandra Schmid, chair of the Cell Biology Department, will present "Guidelines for Successful Postdoctoral Training at TSRI" on Thursday, October 11, from 2 to 3:30 PM. She will speak on goal setting and expectations, time management, networking, Individual Development Plans, when to move on, and Scripps Research (and other) resources. For graduate students, she will also touch on how to choose a postdoctoral position. The event will be held in the Keck Amphitheater, Beckman building. No RSVP required.

Don't Let the Flu Strike You: Get Your Flu Shot
Human Resources is hosting a flu and pneumonia immunization clinic on Thursday, October 11 and Friday, October 12, from 9 AM to noon and 1 to 4 PM, in Room 205, 3377 North Torrey Pines Court. Scripps Research employees, research associates, and graduate students are eligible for this free flu immunization. Pneumonia immunizations cost $40 (cash or checks made payable to "HealthFax, Inc." will be accepted). Sorry, family members are not eligible for flu or pneumonia immunization.
This is the only time that flu/pneumonia immunizations will be offered on campus. For more information, visit the Benefits Calendar or contact Nancy Boccio, x48293.

Road Construction Update
During the month of October 2007, the City of San Diego road improvement project on Genesee Avenue will:
Continue excavating and placing storm drains during night hours
Relocate backflow prevention devices at Scripps Hospital Drive
Remove existing curb and gutter at intersection of Genesee Avenue and Scripps Hospital Drive
Continue to clear and grub brush in the southeastern segment of the project area on Genesee Avenue
Remove and relocate designated trees within project area
Continue installing and maintaining sediment erosion control measures throughout the project area
The goal of the project, which is scheduled to last until August 2008, is to improve traffic flow and alleviate traffic congestion along Genesee Avenue. For more information, visit www.sandiego.gov/engineering-cip/projectsprograms/genesee.shtml. If you have questions or would like to receive monthly email updates, call the project hotline at (619) 533-7539 or contact Leslie Emmanuel at LeslieE@CollaborativeServices.biz.
Send comments to: mikaono[at]scripps.edu


Heart to Heart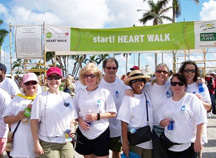 Members of the Scripps Florida Heart Walk Team recently raised more than $1,000 for the American Heart Association.