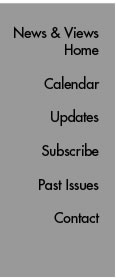 Snapshot:
Chris Fish
Position: Senior Machinist/Plastics Fabricator, Scripps Research Instrumentation and Design Lab
Responsibilities: To support Scripps Research scientists and staff by repairing laboratory equipment (including centrifuges, incubators, shakers, mixers, and pipettes) and by designing and fabricating novel scientific apparatuses. The shop's custom work has included acrylic shielding, electrophoresis equipment, adaptors, accessories for microscope work, and nano-spray stages. "We can work from anything from a blueprint to a sketch on the back of a napkin."
Started at Scripps Research: 1984. "In two years, I will have spent half my life here."
Background: A San Diego native, Fish describes himself as a "woodworking nut" in high school, when he enrolled in summer school and night classes to have access to the shop. (His creations won two blue ribbons in the 1977 High School Seniors woodworking competition at the San Diego County Fair.) After graduation, he worked six and a half years for a machine shop specializing in aerospace parts and other custom design, which provided an opportunity for him to hone his skills with plastics. When he arrived at Scripps Research in 1984, the institute was still part of Scripps Clinic and Research Foundation and consisted of only three buildings on the Torrey Pines Mesa.
What Scripps Research Scientists Need to Know About the Shop: "We're here! We provide excellent service, cheaper than outside vendors. Also, we can handle emergencies—at least give us a call; we can probably take care of it."
Daily Challenge: "It's a balancing act between building the equipment as inexpensively as possible and meeting all the requirements for the project to make everyone happy."
Favorite Part of the Job: "Seeing projects from concept to completion. That's rare in a production shop. I also get to meet people from around the world."
Hobbies: Fish is an active member of a local Volkswagen bus club called Strictly Vintage 2, where he has served as vice president, written articles and taken photos for the group's newsletter, and attended events such as car shows, caravans, and club camping. "If you ever see more than two VW buses together, it's probably us."
Send comments to: mikaono[at]scripps.edu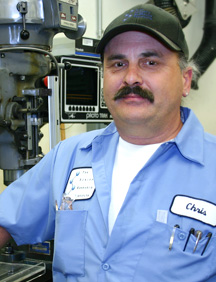 "We provide excellent service, cheaper than outside vendors," says Chirs Fish of the Scripps Research Instrumentation and Design Lab. Photo by Kevin Fung.