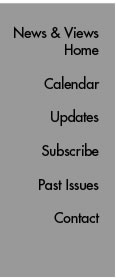 In Brief

SOF Hosts Fall Research Symposium
The Scripps Research Institute's Society of Fellows (SOF) welcomes faculty, staff, and students to this year's Fall Research Symposium, which will be held Thursday, October 4 on the La Jolla campus. SOF symposia provide a venue to learn about the most exciting campus research projects as presented by junior scientists. This fall's presentations encompass topics including chemistry, chemical biology, structural biology, molecular biology, cell biology, immunology, molecular and experimental medicine, and the neurosciences.
In total, 72 abstracts will be presented during an oral session (Keck Amphitheater, 12:40 - 5 PM) and a moderated poster session (Beckman galleria, 5 - 6:30 PM; posters will be available for viewing starting at 10 AM). Presenters in both sessions will compete for cash prizes awarded for best in category.
Additionally, keynote lectures will feature Paul Muchowski of the Gladstone Institute of Neurological Disease and University of California, San Francisco, speaking on "Identifying Disease-Modifying Pathways for Neurodegenerative Diseases Using Yeast Genetics" (Keck Amphitheater, 11:30 AM - 12:30 PM), and Pamela Björkman of the California Institute of Technology/Howard Hughes Medical Institute, speaking on " Fc Receptors: From Molecules to Cells" (Keck Amphitheater, 2:30 - 3:30 PM).

Seminar: "Guidelines for Successful Postdoctoral Training at TSRI"
Sandra Schmid, chair of the Cell Biology Department, will present "Guidelines for Successful Postdoctoral Training at TSRI" on Thursday, October 11, from 2 to 3:30 PM. She will speak on goal setting and expectations, time management, networking, Individual Development Plans, when to move on, and Scripps Research (and other) resources. For graduate students, she will also touch on how to choose a postdoctoral position. The event will be held in the Keck Amphitheater, Beckman building. No RSVP required.

Don't Let the Flu Strike You: Get Your Flu Shot
Human Resources is hosting a flu and pneumonia immunization clinic on Thursday, October 11 and Friday, October 12, from 9 AM to noon and 1 to 4 PM, in Room 205, 3377 North Torrey Pines Court. Scripps Research employees, research associates, and graduate students are eligible for this free flu immunization. Pneumonia immunizations cost $40 (cash or checks made payable to "HealthFax, Inc." will be accepted). Sorry, family members are not eligible for flu or pneumonia immunization.
This is the only time that flu/pneumonia immunizations will be offered on campus. For more information, visit the Benefits Calendar or contact Nancy Boccio, x48293.
Send comments to: mikaono[at]scripps.edu