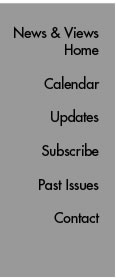 Snapshot:
Kathy Sterling
Title: Senior administrative assistant, Reed lab
Duties: "Keeping things running behind the scenes, so lab members can focus on their science," including ordering supplies, tracking accounts, taking care of paperwork, calling for equipment repair, and helping with grant and fellowship applications.
Started at Scripps Research: January 1996.
Background: B.A. in psychology, then a teaching degree from San Diego State University. After working as a teacher, she returned to an administrative job (an area she worked in to help put herself through college) for the consistent and flexible schedule, while her son was an infant. "Once I came to Scripps, so many positive aspects made me want to stay. It's such a great place to work."
Favorite Part of Job: "I like helping out, and I enjoy the diversity of tasks that I do. Also, I'm proud to be part of the support staff at Scripps because there are so many competent, long-term employees here that I interact with on a regular basis."
Favorite Parts of Scripps Research: "The beautiful setting, being among world-renowned scientists, the international population, and the wealth of extracurricular activities for employees—like yoga, Toastmasters, sports clubs, and parenting seminars—as well as benefits like access to the Gluck Childcare Center for employees with young children."
Family Life: Kathy lives with her husband, Larry, and son, Mathew (now 12), in Serra Mesa, the same San Diego neighborhood she grew up in.
Extracurriculars: In addition to yoga, martial arts, and line dancing, Kathy is active in Toastmasters, whose members develop public speaking and leadership skills through practice and feedback. Kathy currently serves as vice president of membership for the Scripps Outstanding Speakers (SOS) group at Scripps California, and as the organization's District 5 - Area 17 governor, overseeing four other Toastmasters clubs in the region.
What's her secret to staying calm when speaking in front of a group? "I look for people who smile back at me when I am speaking. I focus on that positive feedback and then direct my attention back on the rest of the group. I also remind myself that the audience wants to hear what I have to say."
Send comments to: mikaono[at]scripps.edu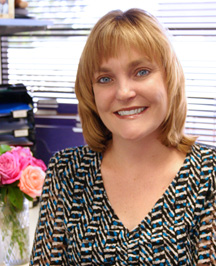 "I'm proud to be part of the support staff at Scripps," says Senior Administrative Assistant Kathy Sterling. Photo by Kevin Fung.