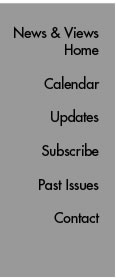 In Memoriam:
Daniel Koshland, Jr. (1920-2007)
Daniel E. Koshland, Jr., an esteemed professor of biochemistry and molecular biology at the University of California, Berkeley, and long-time supporter of The Scripps Research Institute, died Monday, July 23, following a stroke. He was 87.
"We are deeply saddened by news of Daniel Koshland's death," said Scripps Research President Richard A. Lerner, who was a personal friend. "He was an exemplary scientist and original thinker whose work changed the field of biochemistry. We extend our condolences to his family."
Only weeks before he died, Koshland made a donation of $100,000 to The Scripps Research Institute's Kellogg School of Science and Technology. His gift, which was to be announced this week, will form the basis for a new student fellowship, entitled the Koshland Graduate Fellowship in Enzyme Biochemistry.
"This gift is typical of Daniel Koshland's generosity and commitment," said Jeffery Kelly, dean of graduate and postdoctoral studies at Scripps Research. "We are grateful for his long-standing support of our students and our program."
The Scripps Research Kellogg School, which is among the top graduate programs in the country in its fields of chemistry and biology as ranked by U.S. News & World Report and other organizations, awarded Koshland an honorary degree at its 2003 commencement ceremonies. There, Koshland spoke eloquently on the contributions of science to the quality of our lives and the importance of the next generation of scientists to solving key problems facing the world.
"I'd like to discuss two features of science that will be very important to your future," Koshland said at that time, addressing the graduating students. "The first is what I'd call incrementalism, the fact that great benefits from science to society are the result of the work of many scientists over many years—not one person who suddenly in a flash of genius understood the whole concept...."
"The second feature of science that you will find to be important," he continued, "[is] that it is much fun to carry out!"
Revolutionary "Induced Fit" Model
Daniel E. Koshland, Jr. was born in New York City on March 30, 1920. Attracted to math, physics, and chemistry from an early age, Koshland earned a B.S. in Chemistry in 1941 from the University of California, Berkeley. During World War II, Koshland served as a group leader in the Manhattan Project, in the effort to chemically purify plutonium. After the war, he attended graduate school at the University of Chicago, where he made a breakthrough in the synthesis of glucose molecules selectively labeled with radioactive carbon—an important advance for the study of metabolism.
After postdoctoral work at Harvard University, Koshland joined Brookhaven National Laboratory and The Rockefeller University. During this time, he postulated the "induced fit" hypothesis, which was revolutionary when he first proposed it as a model for enzyme catalysis.
In 1965, Koshland accepted a professorship at his alma mater, the University of California, Berkeley. There, he conducted research on enzymology and enzyme mechanisms—particularly allosteric interactions, bacterial chemotaxis, and the relationship of enzymes in the nervous system to memory and behavior. At Berkeley, Koshland led the Department of Biochemistry and the University of California Chancellor's Advisory Council on Biology, which oversaw a massive reorganization of 17 departments in the biological sciences.
Editor-in-chief of the prestigious journal Science from 1985 to 1995, Koshland received numerous awards and honors over the course of his career, including the Albert Lasker Award for Special Achievement in Medical Science, the National Medal of Science, the Pauling Award from the American Chemical Society, and the University of California Alumnus of the Year Award.
He is survived by his wife Yvonne Cry San Jule, whom he married following the death of his previous wife of 52 years, Marian Koshland, an accomplished immunologist. He also leaves two sons, three daughters, nine grandchildren, and one great-granddaughter, as well as three stepchildren, 12 step-grandchildren, and 17 step great grandchildren.
Because of his recent gift, Koshland also leaves behind a line of Kellogg School students who will hold fellowships in his name. Gabriel ("Gabe") Simon, a third-year Ph.D. candidate in the laboratory of Professor Benjamin Cravatt, is the first student to be selected for the Koshland Graduate Fellowship. Simon's research focuses on deciphering the biosynthetic pathways for the fatty acid amide class of endocannabinoid signaling lipids.
Send comments to: mikaono[at]scripps.edu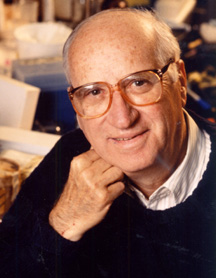 Daniel Koshland, Jr., a long-time supporter of the Scripps Research Kellogg School, received an honorary degree from the program in 2003. Robert Holmgren photo.