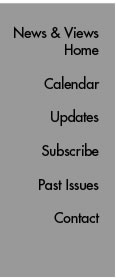 In Brief

Lunch & Learn: "Enjoy San Diego This Summer Without Traffic"
Paulina Gilbert and staff of the San Diego Metropolitan Transit Systems (MTS) will give a talk, "Enjoy San Diego This Summer Without Traffic," on Thursday, June 28, from noon to 1 PM as part of the ongoing Lunch & Learn seminar series for Scripps Research employees. Learn about the public transit system and how to use the Coaster, trolley, or bus to get to the beach, a sporting event, or your favorite San Diego destination. Find out how using MTS can be a "Green Solution" reducing expenses while lowering pollution and emissions. Have your specific questions answered on how to effectively use MTS in your immediate area. The seminar, arranged by the Office of Counseling and Psychological Services, will be held in the Human Resources Training Room, 3377 North Torrey Pines Court, #205 (2nd Floor), La Jolla campus.

Library Tip: New Site-Wide Access to Chronicle of Higher Education
The Kresge Library brings you site-wide access to The Chronicle of Higher Education and The Chronicle of Philanthropy. Keep up-to-date with the latest news and reports in the higher education and non-profit worlds. There are sections for faculty, students, management, information technology, careers, and grants. The current and past issue of the Guide to Grants can also be searched as part of this new subscription.
You can register to receive email alerts for both of the Chronicles as well as grant and job alerts. For those who prefer an RSS feed, the Chronicle has a number to choose from.
Here is a sampling of what you will find on the Chronicle sites: "'Nature' to Start Web Site for Early Comments on Research Findings", a new column called "Page Proof" giving advice to academics about writing and getting published, and "Researchers Report Creating Embryonic Stem Cells Without Eggs".
Questions or comments? Contact the Kresge Library Help Desk, x4-8705 or helplib@scripps.edu.

Summer Blood Drive
The San Diego Blood Bank will hold a blood drive Thursday, June 21, from 8 AM to 1:30 PM at Scripps Green Hospital Cafeteria's Hastings Room. To make an appointment, contact Darlene Scarcella, at 354-2525 from the Scripps Research California campus (no need to dial "9") or 554-2525 from off campus. For more information, call Darlene or contact the Blood Bank, (800) 4MY-SDBB or www.sandiegobloodbank.org. Eat and drink plenty of fluids before donating and bring proof of identification.

Benefits Seminar: Fidelity NetBenefits Demonstration
Benefits Administration is pleased to have Fidelity Investments on the California campus to present a workshop, "NetBenefits demonstration," on Friday, June 22, from noon to 1 PM. This workshop is intended for employees who would like to experience firsthand some of the major features of Fidelity's online system.
Some of the features covered will be:
Accessing your account,
Where to change deductions,
Where to change contributions,
Where to conduct exchanges,
Online statement overview,
Tools for retirement planning,
Take home pay calculator, checks to see how increasing contributions will affect take home pay,
Performance information on core funds,
Brokerage link access.
The demonstration will be held in the Research Computing Training Room, 3377 N. Torrey Pines Ct., Room 310. This will be an interactive training with participants at a computer. Because of the limited number of computers available, please call Fidelity at (800) 642-7131, Monday to Friday 5 AM to 9 PM Pacific time to reserve your spot. No food or drink allowed in training room.
Send comments to: mikaono[at]scripps.edu