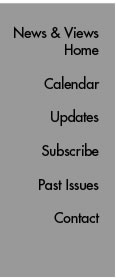 Etcetera

Got "Hot Topz" Tickets?
A dance party and fashion show called Hot Topz, to be held Saturday, June 23 at the downtown San Diego Manchester Grand Hyatt, will raise money for research at The Scripps Research Institute.
Hot Topz, which is being put together by musician and performing artist Kathy Yuhl and cycling tour organizer Jim Knight under the auspices of Desert Rock Productions, will feature a variety of food and entertainment, including three DJs playing high-energy music, a live band "Paradise," samples from a variety of San Diego restaurants, a cigar party, a summer fashion show, and a "Hottest Top" contest for guests. As part of the fundraising effort for the institute, photos of the evening's guests will be developed onsite and made available for donations to the institute. In addition, the event will honor Scripps Research investigators Dennis Burton, Ben Cravatt, and Peter Kuhn.
Tickets to Hot Topz, which are currently being offered at $60 (they'll be $90 at the door), are available at www.desertrock.biz. To take advantage of a special Scripps Research promotion when purchasing tickets online, enter the code "TSRI" and receive a 10 percent discount off ticket prices. The event starts at 8 PM.
Send comments to: mikaono[at]scripps.edu