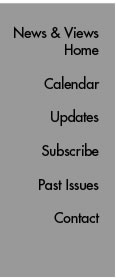 In Brief
Library Tip: An Easy Way to Convert to PDF
Did you know the Kresge Library has two copiers that can convert articles to PDF files? Once the document is converted into PDF, you can then email these files to yourself. Directions on how to scan to PDF are posted on the wall above the copiers. Library staff are also available to help. For more information, contact the Kresge Library Help Desk, x4-8705 or helplib@scripps.edu.

New English-as-a-Second-Language Classes to Begin
A new English-as-a-second-language class will begin Tuesday, May 22, 2007. The class meets from 6:30 to 8:30 PM every Tuesday in the Immunology building west conference room, La Jolla campus. The price for three months (12 classes) is $60.
Each intermediate-level English class is divided into speaking and listening, idioms and vocabulary, and reading and writing. If you would like to improve your English communication skills, as well as understand your friends and colleagues, movies, television shows, and the news, this class is for you. The teacher uses movies, games, television shows, grammar books, songs, drawing and novels to teach standard American English. Have fun and learn English at the same time! For more information, please leave a message at x4-2176.

Shape Up at the Health Fair
The annual La Jolla Campus Health Fair is coming up on Wednesday, May 23, from 11 AM to 1 PM, on the walkway in front of the Immunology building. A variety of health and wellness topics will be addressed, including fitness, nutrition, safety, and more. There will be health and wellness screenings, fitness and recreation demonstrations, chair massages, giveaways, and food samples from your favorite local restaurants. All Scripps Research employees and graduate students are invited to participate in this fun and educational event.

Lunch & Learn: "Stress Reduction for the Whole Person"
Cardiologist Erminia "Mimi" Guarneri, medical director of The Scripps Center for Integrative Medicine and author of The Heart Speaks, will give a talk on "Stress Reduction for the Whole Person: Your Mind, Your Body, Your Well-Being," as part of the ongoing Lunch & Learn seminar series on Wednesday, May 30, from noon to 1 PM. Guarneri will share information on stress and how to ease its effects. The event, arranged by the Office of Counseling & Psychological Services, will be held in the Committee Lecture Hall, Molecular Biology Building, on the La Jolla campus.

News&Views to Begin Summer Publication Schedule
News&Views will not be published next week due to the Memorial Day holiday. From Monday, June 4 to Monday, August 27, News&Views will be published on its summer schedule, every other week. The deadline for announcement and calendar submissions is Wednesday at noon for the following Monday's issue.
Send comments to: mikaono[at]scripps.edu