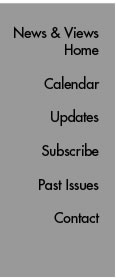 In Brief
SOF Presents Vendor Show
The Society of Fellows (SOF) cordially invites all on the La Jolla campus to the 2007 Scripps Research Vendor Show on Tuesday, May 15, from 9 AM to 2:30 PM, to be held in and around the Immunology, Molecular Biology, and Beckman buildings. The show will feature more than 100 companies, their latest technologies, and free samples. Ask questions and get advice from company representatives, pick up a free Jamba juice, and enter to win one of five $100 gift certificates to Westfield Shopping Town. See the SOF web site for more details.
Need a Demo of the New Calendar System?
The Scripps Research Institute Calendar Office is offering a live demonstration of the new Conference Room Reservation/Seminar Announcement Process on Wednesday, May 16, from noon to 1 PM, at the Committee Lecture Hall. This presentation will guide participants through the steps for reserving or announcing a Scripps Research-related event using the new reservation process. No R.S.V.P. required. In addition, reservation/announcement instructions are available on the calendar website: http://www.scripps.edu/calendar/calendar.html. Suggestions or questions should be directed to the Calendar Office, calendar@scripps.edu.

Shape Up at the Health Fair
The annual La Jolla Campus Health Fair is coming up on Wednesday, May 23, from 11 AM to 1 PM, on the walkway in front of the Immunology building. A variety of health and wellness topics will be addressed, including fitness, nutrition, safety, and more. There will be health and wellness screenings, fitness and recreation demonstrations, chair massages, giveaways, and food samples from your favorite local restaurants. All Scripps Research employees and graduate students are invited to participate in this fun and educational event.

Lunch & Learn: "Stress Reduction for the Whole Person"
Cardiologist Erminia "Mimi" Guarneri, medical director of The Scripps Center for Integrative Medicine and author of The Heart Speaks, will give a talk on "Stress Reduction for the Whole Person: Your Mind, Your Body, Your Well-Being," as part of the ongoing Lunch & Learn seminar series on Wednesday, May 30, from noon to 1 PM. Guarneri will share information on stress and how to ease its effects. The event, arranged by the Office of Counseling & Psychological Services, will be held in the Committee Lecture Hall, Molecular Biology Building, on the La Jolla campus.
Send comments to: mikaono[at]scripps.edu