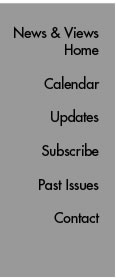 In Brief

Anette Schneemann to Speak in Faculty Lecture Series
Scripps Research Institute Associate Professor Anette Schneemann will speak on "Virus-Host Interactions Controlling Nodaviral RNA Replication and Assembly" on Wednesday, May 9, as part of the ongoing Faculty Lecture Series. The lecture will be held at 5 PM in the Timken Amphitheater, Scripps Clinic, La Jolla.

Library Tip: Online Books Added
The Kresge Library has added more online books to its collection. Look for individual titles through Ellen, the library's catalog or go to the Wiley Interscience Online Books webpage. There are unlimited concurrent users.
New titles include:
March's Advanced Organic Chemistry: Reactions, Mechanisms, and Structure (6th ed.)
Mouse Models of Human Cancer
What's Wrong With My Mouse? (2nd ed.)
Cancer Bioinformatics
Genomics and Proteomics Engineering in Medicine and Biology
Antigen Presenting Cells
Introduction to Physical Polymer Science
Combinatorial Chemistry, from Theory to Application (2nd revised ed.)
Stem Cell Transplantation: Biology, Processes, Therapy
Handbook of Contemporary Neuropharmacology
Please contact the Kresge Library Help Desk, x4-8705 or helplib@scripps.edu, with feedback or requests for more information.

Get Up to Speed on EndNote X, MEDLINE
Hands-on classes on EndNote X and MEDLINE have been added to the training calendar:
EndNote X (PC/Mac) classes offered on Monday, April 30, 1 - 3:30 PM, and Monday, May 7, 9 - 11:30 AM, will cover: setting up an Endnote library; entering records, editing records, fields, keywords; using Cite while you write with MS Word; and other topics depending on attendees.


A MEDLINE (PubMed and Ovid access) class offered on Wednesday May 2, 1 - 3:30 PM, will cover: basic searching with Boolean, using MeSH terms, using limits, saving searches, finding full text, exporting to EndNote or RefMan, and other topics depending on attendees' needs.
To register for either class, go to the Training web site. Please be sure to confirm the date of the class when registering. Classes will be held in the Computer Training Room on the third floor of 3377 North Torrey Pines Court, Room 310.
Send comments to: mikaono[at]scripps.edu